Yesterday, the 10th of May, was the official start of the 10-day 2013 Madrid San Isidro Festival and it lasts until the 19th of May. The 15th of May is THE BIG DAY, San Isidro Labrador Day, Madrid's Patron Saint, and is a city-wide holiday.
I know many people hear "San Isidro" and first think of the world's largest bullfight festival, "Fería de San Isidro", with daily bullfights from 9 May to 1 June.  But Madrid's San Isidro festival is much more diverse than that.
Video Below (not mine): "Gigantes y Cabezudos" dancing in Puerta del Sol:

For example, yesterday/Friday afternoon I was downtown and there was a parade of "Big Headed Giants" ("gigantes y cabezudos")  through the Puerta del Sol of Madrid. After that, there was a symphony orchestra concert in the Plaza Mayor. (photo below was taken an hour before the 9:30pm concert started)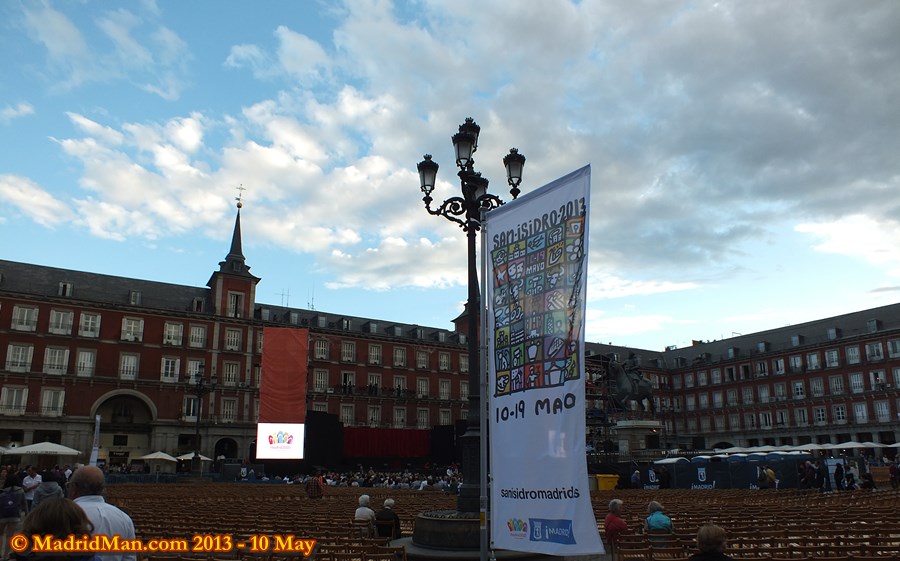 Many events take place during the 15th of May including many things in the "Pradera de San Isidro". This is the large, hilly city park located immediately across the Río Manzanares river from the Vicente Calderón Stadium (home of the Atlético de Madrid football team). It's also the park from which we have Madrid skyline views as seen by painter Francisco Goya in his 1788 painting, "La Pradera de San Isidro". (see painting below)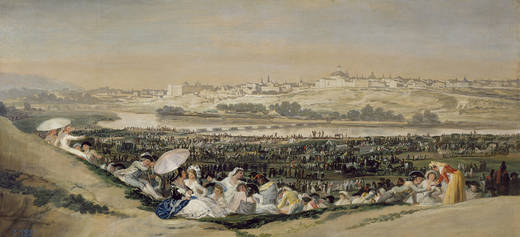 In the Pradera de San Isidro on the 15th of May, Catholic Mass takes place at noon and costumed "chulapas" (women) and "chulapos" (men) dance the traditional "el Chotis" in the street throughout the day. There will also be people standing in line for hours to drink the spring water beside the "Ermita de San Isidro" hermitage – which is said to contain "healing powers". I always go the day before the 15th to drink the same water and there's never a line – but it's not the same as doing it ON San Isidro Day, I realize. Thousands of people will also buy "rosquillas" (kind of like doughnuts) – "las tontas, las listas y las de Santa Clara" to eat there and to take home. I always get a "mixed bag" of the three kinds to eat for "merienda" and breakfast over the following days after San Isidro.
There are also other cultural events, dances, and concerts taking place in Madrid's "Las Vistillas", the small park south and west the Viaducto. I tend to only attend events in the "Pradera de San Isidro" as it's practically in my neighborhood and access is easy onfoot. These days it's impossible to find parking anywhere in this area.
This year, 2013 Madrid San Isidro Festival, on the 15th of May itself, I'll post a new blog with photos and video of my experiences in the Pradera – assuming it doesn't rain, that is.
Enjoy the 2013 Madrid San Isidro Festival!
Also read all year's accounts of the San Isidro Festival in Madrid with lots of information, insights, photos and videos:
San Isidro 2013, San Isidro 2012, San Isidro 2011, San Isidro 2010, San Isidro 2009, San Isidro 2008
Share THIS on Facebook!