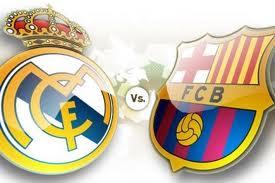 Tonight's "El Clásico", between perennial Spanish football powerhouses Real Madrid & FC Barcelona, starts at 8:45pm local Spanish time for the 1st leg of the UEFA Champions League Semi-Final at Madrid's Santiago Bernabeu Stadium. This is a (nearly??) unprecedented 4th of 5 total match-ups in this 2010-2011 football season. The final "El Clásico" will be next week on the 3rd of May for the second leg semi-final of the Champions League. (how can anyone keep this stuff straight?!?!?)
Their previous match-up was just last Wednesday night on Valencia's Estadio Mestalla's neutral turf. The outcome, 1-0, yielded Real Madrid as the victors of the "Copa del Rey" or Spain's "King's Cup" – which was embarrassingly dropped under the front tires of the celebration bus as it passed through the streets of Madrid. (Thanks, Sergio Ramos!!)
The game is televised locally in Madrid on Telemadrid. If you can get in, it's also being broadcast free on ZonaChampions.es. (I'm watching it live there now!) I also hear-tell one can find ways to watch the games online via the links at MyP2P.eu and RojaDirecta.es – but I can't confirm that.
Real Madrid's Sami Khedira & Fernando Gago will miss tonight's match. For FC Barcelona, Andres Iniesta will miss action while Carles Puyol and Gabriel Milito return after injury leave.
Best of luck to BOTH teams!
(THERE, I SAID IT!!)
FINAL RESULT: 2-0 for winners FC Barcelona, both goals scored by Lionel Messi in the second half.
Below is a 180º sweep video I shot last April 2010 of the Santiago Bernabeu Stadium during the Santiago Bernabeu Stadium Tour.

Share THIS on Facebook!