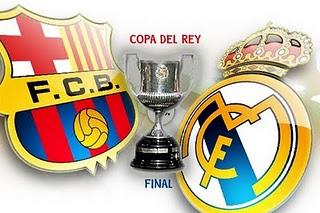 Real Madrid and Barcelona match-up for the 3rd of 5 games in the 2010-2011 season of the "El Clásico" games. This time is for the final of the "Copa del Rey" and will be played in Valencia's Estadio Mestalla.
One can watch live on TV on Spain's RTVE's La 1 (channel 1) as well as online at http://www.rtve.es/deportes/futbol/directo/ and MyP2P.eu. The game starts at 9:30pm local Spain time, 8:30pm UK time, or 2:30pm East Coast USA time.
Last Saturday night's 2nd of 5 "El Clásicos" in Madrid's Santiago Bernabeu stadium ended in a 1-1 tie but tonight's game is the FINAL of  Spain's "The King's Cup" or the "Copa del Rey". I wish BOTH teams the best of luck. Even the King and Queen of Spain are watching from the stands.
GAME RESULT: Goal by Cristiano Ronaldo in the second overtime to lead Real Madrid over Barça, 1-0, the first Copa del Rey for Real Madrid in 18 years!!
Share THIS on Facebook!