19 May 2011 UPDATE: As of 2 days ago, after being off-air for about a week, Fox News returns to Spanish satellite Canal+ TV.

The fact is, I've never spent much time watching Fox News here in Spain, on Canal+ satellite, except for their occasional coverage on natural disasters, accidents, highway car chases, and (alleged) boys caught in runaway air balloons. They always have great from-the-helicopter coverage.
The other day I was scanning the Canal+ news channels like TVE24Horas, InfoMeteo (weather), CNBC, Bloomburg, BBC World, CNN International, France24 (in English), Al Jazeera (yes, really, and in English!), and EuroNews. Oddly enough, the Fox News channel was still there in its place, channel 76, right between CNN & France 24, but no emission. The Fox News logo was stoically on the center of a black screen with the words "ESTE SERVICIO HA FINALIZADO SUS EMISIONES" underneath. No other explanation was given.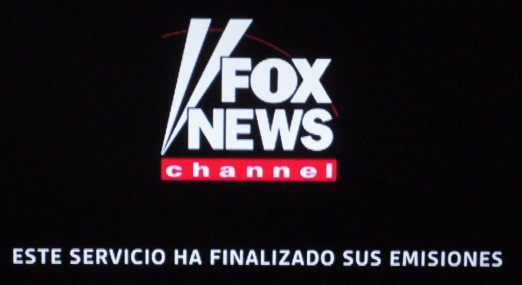 So I went to the Canal+ website of channels, searched for Fox News – there is was. But when I clicked on the program schedule it too showed as "Fin de Emisión".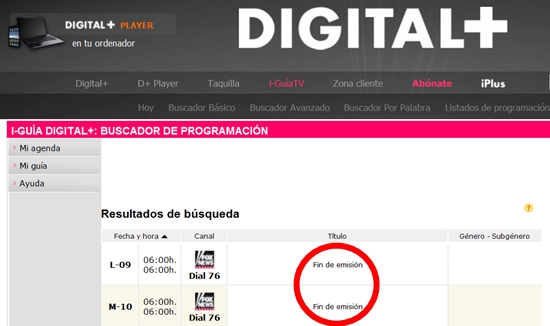 Fox News is gone from Spain's Canal+ satellite lineup. I guess that's not altogether a surprise. Without getting too political, the Fox News reputation exceeds its American borders and the average Spaniard doesn't think too highly of it. (no, I didn't stand on the street corner with pad-and-paper taking a poll) It's probably partly that and also partly that your average Spaniard is quite a bit more left-thinking than your average Fox News viewer – even if that Spaniard is a card-carrying member of the (right-wing) Partido Popular Party. So maybe Fox News, or Canal+ itself, didn't think Spain was a good fit for it. Or maybe their market share was low. Who really knows the truth besides the Canal+ people themselves. I've done Google searches for more info but none could be found. Guess it'll remain a mystery for now.
Share THIS on Facebook!