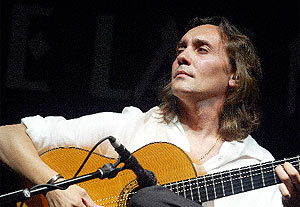 A couple nights ago I attended a very good flamenco guitar concert by Seville-born star VICENTE AMIGO, as part of the Suma Flamenca Flamenco Festival. This was good timing as he was promoting his recently released (5 May) album, "Paseo de Gracia". (visit the Vicente Amigo website for music clips).
This concert took place in the brand new city-owned "Teatros del Canal", located alongside the Paseo de la Castellana at metro CANAL. It's a new steel and glass structure, the location of the Suma Flamenca press conference. I didn't have high expectations for this modern venue for a flamenco – but I was pleasantly surprised. The truth is, its modernality does NOT add character to the traditional performances taking place on state, the seats are (still) comfortable and spacious, and the air conditioning mercifully worked very well.
From our second-row seats, we could see the entire Vicente Amigo accompaniment band. With Vicente himself in the middle, he was flanked by an electric bass guitar, flamenco guitar, two percussionists, two palmeros/singers, and one violinist – all male. The "players" came and went, depending on the song being performed, sometimes Vicente was seated alone.
The concert lasted just less than 1.5 hours, no breaks, and two encores were granted. Each song lasted between 8 and 15 minutes, typical for flamenco guitar compositions. Vicente Amigo himself seemed rather timid speaking, but was able to dedicate one song to his mother whom was in the audience, coming from Valencia.
Those in attendance were notably a younger crowd. We didn't see the older couples or famous people you usually see at the Suma Flamenca performances. A young, Spanish crowd gives great hope for this wonderful art form. We only saw one famous person, Amador Mohedano – brother of the late Rocio Jurado.
Everyone enjoyed the flamenco guitar concert on that Monday night in Los Teatros del Canal. At times I found myself tapping my toes and drumming my fingers on my thighs.
See the video below of Vicente Amigo's song, Paseo de Gracia, from the album of the same name. Other songs on his new album include vocals by Alejandro Sanz, Niña Pastrori, Estrella Morente, & Enrique Morente.
Share THIS on Facebook!