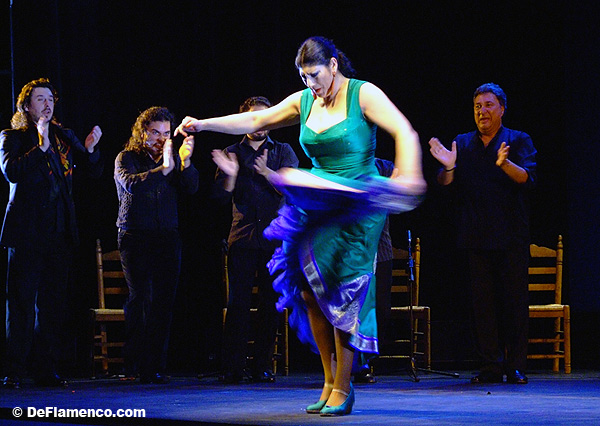 Last night I watched a wonderful Flamenco Dance performance by the famous Manuela Carrasco in "Sala B" of the Teatros del Canal. She danced three times and two males each danced two numbers apiece.
Manuela Carrasco, from Triana, Sevilla, had won many awards for her expertise in the 1970s and continues to thrill audiences to this day. During two of her three numbers, each of which included a costume change, the combs pinning back her hair went flying. When seeing this, I sometimes think the dancers expect this will happen, adding a "Wow!" affect for the audience. Get can't nuttin' passed me! The dance group was accompanied by a wonderful crew of 10 members including guitar players, palmeros/singers, and one "box" player.
While I enjoyed her dances to some extent, I especially enjoyed the performances by the two young men whom, with force, precision, and passion, showed what's to come in the world of flamenco dance. If they were any indication, we're in for a treat.
Unfortunately, no photos or videos are allowed during the Suma Flamenca performances. One woman, sitting alongside the stage, took two flash photos and an usher asked her to stop. We had 5th-row seats in the center, but this was in the first row of the main section. The first four rows, at nose-height with the stage, seemed to be reserved for VIPs and professional flash-less photographers of the press.
After the performance, I enjoyed some raciones and "cervezas con limón" (beers with lemon) at a terraza nearby. I thank those whom invented linen pants and silk shirts. It was a hot night and a cool shower was awaiting me when I arrived home at midnight by metro. Tonight, I'll do this all over again but it's much much cooler today after last night's rains. Read the review tomorrow!
1986 Video of Manuela Carrasco dancing
Share THIS on Facebook!