Last night at the Los Teatros del Canal was another enjoyable Suma Flamenca evening of Flamenco Singing. Coincidentally, we had the exact same 5th row seats as the previous night. Unfortunately, the venue was maybe only half-full, possibly due to the previous night's rains and cool temperatures. Who knows. But they missed a very good performance.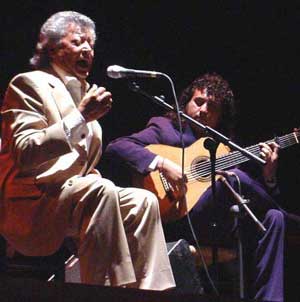 A note worth mentioning, the vast majority (or nearly all of
them) of those attending last night were clearly Spaniards,
lest anyone thinks that flamenco is only for tourists. It's true, the
flamenco tablaos DO cater mainly to tourists but the concerts and
performances of the Suma Flamenca flamenco festival is very VERY
Spanish, and very few non-Spaniards attend.
Performing first was José Cortés Jiménez "Pansequito", who was discovered at 15 years old by none other than Manolo Caracol in 1963. "Pansequito" is a distinguished man, short of statue yet forceful in voice.
He was a true gentleman, a true artist. You could "feel" as he sang. While flamenco song is difficult to understand – even to many Spaniards – I understood enough to be touched slightly. Many songs were about family and lost loved ones. He truly seemed comfortable onstage, which is to no ones surprise as he's been performing for more than 45 years. He's worked with greats such as Camarón, Juan and Pepe Habichuela, and Tomatito to name only a few.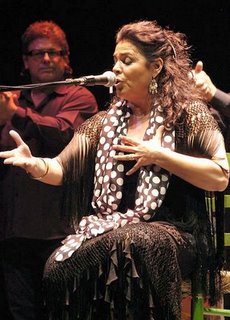 La Macarena-born (Sevilla district) Aurora Vargas performed second and had the same accompanying group of one flamenco guitar player and two excellent palmeros as did "Pansequito". Ms. Vargas displayed great vocal power throughout her 6 or 7 songs. Towards the end of her set, she dedicated one song to an elderly flamenco singer whom was in the audience, and even brought her up on stage to dance a bit during the Big Finale. You could tell she was thrilled to be there, acknowledged, and onstage again.
It was during this Big Finale where both Aurora Vargas AND "Pansequito" both displayed some fancy flamenco footwork along with their invited guest. It was a fun ending to an enjoyable evening.
After the concert we went to a nearby bar ("La Mina") for some of their legendary gambas a la plancha and boquerones en vinagre. After that, we walked (again) through the nearby Plaza de Olavide and found one of the other El Brillante bars, where we just had one quick last drink before ending the evening. Can't wait 'til Monday night's performance!
Share THIS on Facebook!