Last Monday evening I went, yet again, to the Teatros del Canal to see another flamenco performance. This time it was flamenco dance, headlined by Rocio Molina. What surprised me most was that it was a traditional flamenco dance performance but one with ballet and modern dance added to a little traditional flamenco.
Rocio Molina is young. She was born in Málaga in 1984. At just three years old, they say, she started her dancing "career". At 18 years old she graduated with honors at the Real Conservatorio de Danza de Madrid. Wow. So accomplished and still so very young.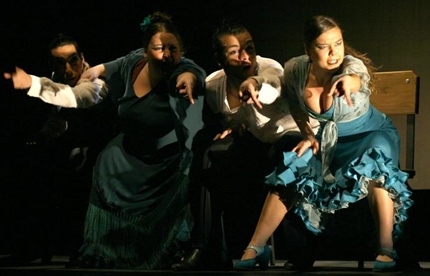 Rocio Molina, far right. Photo by the Málaga Regional Government
The performance was a mix of ballet, traditional flamenco, modern dance, and even some performance art thrown in. The music and audio was the same. At times you had no idea what was happening or why and, I must say, I didn't care for it much. At one point, a man went from corner to corner of the stage and filled some small pots with water, after which, pinpoint spotlight illuminated the tiny pots, revealing what appeared to be splashes from above-falling water. It was odd.
Rocio Molina wasn't the only one performing. There was another (very very large) female flamenco dancer in a colorful dress who dances several numbers alone but also performed a kind of "I'm on the bench" sketch with the cast. Two very thin and young men, seeming skilled in ballet, danced several numbers but also assisted in the sketches, wearing clothing from suits, to open button down shirts, to only pants while dancing. It wasn't until the final sketch when the two women danced traditional flamenco onstage at the same time, seemingly "dueling flamenco" on their own half of the stage, which was entertaining.
The dancing was excellent and movements were precise. One could only imagine how much work went into the individual portions of the performance and how much rehearsal was involved. Truly impressive.
Below is a 5:04 video from Rocio Molina's "Oro Viejo", the same performance I saw last Monday. This snippet is near the most "traditional" of the entire performance – and it's quite modern.
Share THIS on Facebook!