There are a small few cinemas in Madrid which show foreign movies in their original form. Thankfully, 2 of them are in downtown Madrid; Cine Ideal near Puerta del Sol and Cines Princesa/Cines Renoir near Plaza de España.
In 2008, I wrote about Madrid's Cine Ideal, which shows Original Version movies, mostly the Hollywood kind. Today I'm writing about one of the OTHER Madrid cinemas/theaters which also shows "V.O.S." (Versión Original Subtitulada – Subtitled Original Version) movies, called Cines Princesa/Cines Renoir near the Plaza de España.
Cines Renoir is actually part of a group of cinemas which show original version movies in Spain, but 5 are here in Madrid and 2 of them are in the same movie complex just one block north of the Plaza de España. One of those two is Cines Princesa. Specifically, this cinema faces the Plaza de los Cubos at Calle de la Princesa, 3, home to Starbucks, VIPs, Nebraska, Burger King, and various other bars, restaurants, and cafés.
Cines Princesa shows a few more Hollywood movies than Spanish/Foreign movies while the two Cines Renoir cinemas tend to show more International/Spanish films than American films, most often are the award-winning/nominated type. The American movies are always shown with Spanish subtitles at the bottom, but there are also showings of some of these films dubbed in Spanish. Just be sure you know which one you're seeing before buying your ticket.
While I like both Cine Ideal and Cines Princesa equally, I go more often to the latter simply because my bus stops just a couple blocks away from the Plaza de España. The viewing rooms, "Salas" in Spanish, are many, but some are not much bigger than a large garage. This is a turn-off for many, but once the movie starts you don't even notice. The larger, more popular movies area always shown – at least at the beginning of its hype – in the larger "salas". Cines Princesa also has a concession stand with pretty affordable (affordable as compared to USA prices) popcorn and soda/pop snacks. The largest popcorn box costs 3.95 Euros, I think.
Weekend tickets cost 8 Euros while weekday tickets (regardless of show time) cost 7.50 Euros – EXCEPT ON MONDAYS. Mondays, just like at Cine Ideal, is "Moviegoer Day" ("Día del Espectador") and all tickets cost just 5.60 Euros. Add a big-box of popcorn and you've got a movie+popcorn for under 10 Euros! That's a good deal. (IMPORTANT NOTE: These prices are accurate as of today, 26 July 2012. A recent – and significant – rise in the IVA tax will likely raise ticket prices soon, too)
The ticket sales for Cinesa Princesa and the concession stand lobby are at street level, but all the "salas"/cinemas/viewing rooms are down about 15 steps downstairs with no elevators. There are also several below-ground restroom areas, too. The seats are comfortable, new, but not with the super-high-backs you sometimes see in modern USA movie theaters. All seats have a cup-holder at your knee-location.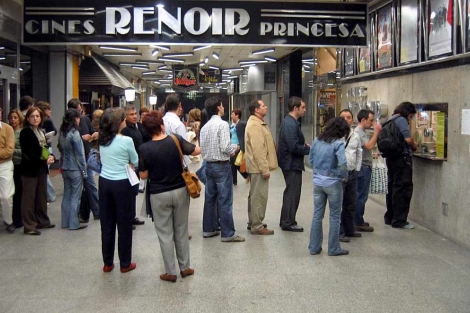 In this complex you'll also find two separate Cines Renoir cinemas; one below ground (actually BELOW the Starbucks Coffee shop) and another on the backside of the building at street level on Calle Martín de los Heros, 12. The former of the two (shown above) has a small concession stand, but the latter (a right) has not.
First showings for all these cinemas (including the aforementioned Cine Ideal) during weekdays is usually 4pm. If you plan to get popcorn for the first day's showing you may arrive to an empty popcorn machine until the concession stand workers get started. That can be frustrating. Also at first weekday showings, the individual "salas" can be quite warm until they turn on the air conditioning. Sometimes, I think, they either forget or not compelled to do so with only 2-10 people at the 4pm weekday showings. Bring a hand-held fan or prepare to complain to management. This has happened to me on more than a few occasions.
Finally, there's one last cinema/movie-theater in this complex of movie theaters, but it's not associated with Cines Renoir – as far as I can tell. It's the Cines Golem, located 30 meters to the LEFT of the outdoor Cines Renoir (photo above-right) at Calle Martín de los Heros, 14. Here, they play only Spanish and international films, almost all are the "Art Film" types, winners/nominees of this-or-that-award.
Madrid has a good number of Original Version Movie theaters and the prices are very reasonable, I think, for a big city like Madrid. Sound and video quality is always excellent, too. Do what I do and catch that first 4pm showing, if possible, and you'll have the movie theater (practically) all to yourself.
Share THIS on Facebook!