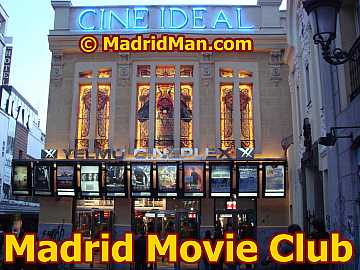 Cine Ideal, located on the Plaza Jacinto Benavente in Madrid near Puerta del Sol, is part of the Yelmo Cineplex chain. It's also my favorite cinema here for showing Versión Original movies in English – if they're American or English movies – but also for movies in their original version from, say, France, Romania, China, or wherever – but then with Spanish subtitles.
It's also the location of nearly all of the MadridMan's Madrid Movie Club gatherings.
I see all my Hollywood movies here. They have approximately 10 screens and generally run about 13 films at a time. Right now, 9 of the 13 movies are Hollywood movies, all show in their original versions with Spanish subtitles.
The cinema is pretty historic too, I believe. The beautiful ceiling crown molding in most of the individual screening rooms is evidence of that. But the rest of the building is totally modern. Most of the "salas" are of decent size. One or two is downright tiny, somewhat bigger than a big-screen television, but only a couple of them are almost as large as your typical cinema screen in an American movie theater. The seats are modern, comfortable, and all have cup holders. The lines are generally long at the ticket booths on a Friday or Saturday night but very short on a weekday afternoon – that's when I try to go. Ticket prices are about 5 Euros for the first showing on Mondays but otherwise they're around 7 Euros. Not bad. Oddly enough, at least to me, most of the individual screening rooms have their own bathroom in the back – or sometimes at the front. This, to me, is odd. And after the movie, you cannot walk back through the cinema but instead are shuttled out the front-side exit door to the street.
Today I went to see the 4pm showing of "4 Meses, 3 Semanas, y 2 Días" – a Romanian movie. It wasn't my idea to see this movie but I was accompanied by someone who did so… whatchagonnado, right? It was slow, and somewhat boring with difficult fictional subject matter (i.e. an illegal late term abortion in Romania in the late 1980s). While somewhat boring, it was also somewhat interesting – AND in Original Version – in Romanian with SPANISH subtitles. Luckily my Spanish is decent enough that I could follow the story.
Last week I went to see "Ahora o Nunca" – or, in English, "The Bucket List" starring Jack Nicholson and Morgan Freeman. Wow. That was a movie. Very good and likely to win Oscar Awards. I also recently saw "In the Valley of Elah" there, starring Tommy Lee Jones, also nominated for an Oscar. Next up, is the (Spaniard) Javier Bardem movie, "No Country for Old Men" – a movie creating long lines at any cinema showing it and is likely to offer the Spanish star his first Academy Award from Hollywood. And also there's "There Will be Blood", the Daniel Day-Louis (nominated for an Oscar), which I'm hoping to see soon.
Wow, so many good movies out lately – and thank goodness I can watch them all in their original version – ENGLISH (with Spanish subtitles). Hearing the actors' own voice, for me, no matter the language, is most important. That's what acting is all about.
Share THIS on Facebook!