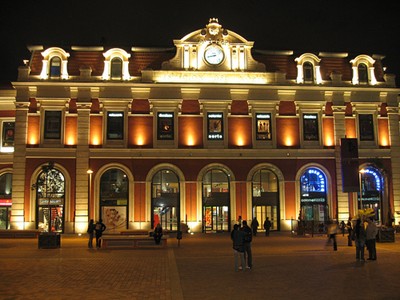 Photo: Exterior of Princípe Pío in Madrid at night. See in the lower righthand corner the purple neon lights and Colonial Norte sign. The Colonial Norte "space" includes the entrance at the lower level, a restaurant on the second floor, and the discotheque, concert hall, and cocktail bar on the top floor just under the iron ceiling beams. Inside the Princípe Pío building is a mall with cinemas, restaurants, retail stores, and a supermarket. Below ground is the intercambiador for metro and local trains.
Colonial Norte occupies part of the Principe Pio train station in Madrid, located at the bottom of "La Cuesta de San Vicente" and next to the big gate of the "Glorieta de San Vicente", very near the Rio Manzares river.
The train station, which served northern Spain, was once called "La Estación del Norte" and was built in 1861 and designed by Gustave Eiffel. It was converted to a kind of multi-purpose mall a few years ago and has become a true commercial success. Underground, one can still find Cercanía trains and metro but the long-distance trains are now gone.
Princípe Pío had been an eyesore for as long as I can remember. The nice old building was falling down for years, all broken windows, totally empty. Warner Studios, I believe, bought (?) part of the building to put in a state-of-the-art cinema complex and the rest was rented out to restaurants, retail stores, and…. Colonial Norte. The renovation of the old Madrid train station is nearly complete. Only one end is still empty and renovations there have already begun.
Colonial Norte, part of the Grupo Otero Restaurantes, is a fancy restaurant on the 3rd floor (you go up via a glass elevator) and a super-modern discotheque/cocktail bar on the top floor with the original ceiling V-beams directly overhead. This space is vast, lots of purple neon, and everything sparkling new.
It's in this discotheque space which becomes a concert hall, called Sala Colonial, on Thursdays and Saturday nights for live music. The concerts are listed as starting at 10:30pm but the two times I've attended the bands didn't come out until 11pm. I'm now a fan of this place.
Thursday nights they tend to have either flamenco singers performing or pop groups. Saturday nights are usually the World Music bands, organized by Mapamundi, which has world music radio programs on Radio Círculo (of Circulo de Bellas Artes) and Radio Elo.
On Saturday, February 9th I went to see JEREZ-TEXAS, a 3-piece flamenco-jazz-classical band. It was so entertaining that I bought their CD after the concert which is something I almost NEVER do. The group is composed of "Ricardo Esteve with the
flamenco guitar, Matthieu Saglio (from France, I think, but his Spanish is perfect) with the cello, and Jesús
Gimeno with the drums." Tomorrow night, Saturday night, I'm going to see the Lidia Pujol concert. She sings Folk Ibérico.
Last night I went with my London buddy Steve to the Angel Pastor concert – Flamenco Cante. Wow. What a show. What life. What passion. It was just young Mister Pastor (in his 30s, I'm guessing) and energetic flamenco guitar accompaniment. This coming Thursday I'm going to the Maria Toledo show. That'll no doubt be great too, totally flamenco singing and flamenco guitar. Mmmm… Nice. She's quite well known too.
As I recall, it costs about 12 Euros entry but that includes your first drink – but not sure if you can order ANY old drink or if it has to be either wine or beer. I mention this because otherwise the wine and beer costs 7 Euros each. the cocktails are 10 Euros each. They also give you a free tapa with the drink, usually nuts or raisins or something similar. The arm chairs in the middle seating area are rather hard seated but look nice. Further back you have bar stools. On the sides you have similar chairs but also some deeper, plusher arm chairs which are very comfortable but the view isn't as good from there. Smoking is allowed.
As mentioned above, it's located on the metro (Principe Pio) and bus lines but isn't in Madrid's Old Center so there are rarely any tourists inside. There were a few last night, however. One can walk there from the Old Center but it's a good long walk downhill – which means you'll have to walk UPhill after midnight after the concert. Or, just take a taxi or the metro. The place is very nice. Check out their website at http://www.ColonialNorte.net to see what I mean. There, you'll also see the concert lineup. Enjoy! I know I will!
Share THIS on Facebook!