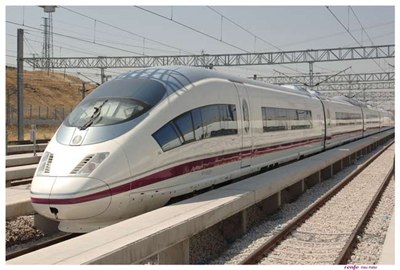 [The below blog entry is a slightly modified version of the same entry on my Barcelona Blog.]

The high-speed AVE train connecting Madrid and Barcelona was finally
completed and its first official trip took place on 20 February 2008.
Media outlets all of Spain ran a story about it including multi-page
articles on the topic with graphics, photos, interviews, and (at least)
two newspapers even made an interesting "stop watch" comparison,
step-by-step, of Train Travel to Barcelona versus Airplane Travel to
Barcelona. I'll discuss this later.
A 16-year wait has finally come to pass. FINALLY! The first high-speed
train run between the two cities arrives ahead of schedule and more
than 70,000 tickets have ALREADY been sold for future trips. Wow.
That's incredible.
The Nuts-and-Bolts:
There are 17 trains going in each direction per day, from Madrid Atocha
train station to Barcelona Sants train station, with a total capacity
of 13,498 passengers per day. The best/fastest travel time is 2 hours
and 38 minutes but other AVE trains take 3 hours or up to 3.5 hours.
Check RENFE.es for schedule and
prices (up to 62 days in advance). Until last Friday, the fastest
Barcelona-Madrid train trip took about 4 hours. Stops from Madrid include Guadalajara, Zaragoza, Lleida, and Barcelona. Top speed
is about 300 kmph but average speed is only about 200 kmph. Seating configuration for the upper, "Peferente class",
where one can plug-in their electronic device at their seat, is a
"thin" 2 x 1 – one seat on one side of the aisle and two seats on the
other side, all seats face forward. Tourist class seating configuration remains the typical 2 seats on each side of the aisle and no electronic device plug-ins available. I believe all seats face forward in tourist class too.
PRICES: 119.50 Euros is the general, Tourist Class
price for the trip. Yikes! But buying your ticket on the web (which
proves to be confusing and difficult to foreigners visiting Spain)
costs only 47.80 Euros. Preferente Class
prices are much higher. General ticket price is 179.30 Euros one-way.
No cheaper, web-purchase tickets are available for this class.
Breakfast is included in the morning, Preferente Class
tickets. Before the AVE was open for business, I'd made this trip once
using Preferente Class service but didn't find the "free breakfast",
slightly larger seats, and somewhat more-nicely-dressed attendants to
be worth the huge difference in price.
The ESTRELLA Madrid-Barcelona night train still exists, taking about 9.5 hours and costing as little as 38 Euros one-way.
Comparisons of Train travel versus Plane travel from Madrid to Barcelona have been made and both sides both win and lose – depending on
the passengers objective.
If price is the deciding factor, AVE train travel wins, costing about 58 Euros less than airplane travel – including presumed taxi costs from/to train-station/airport.
If speed is the deciding factor, airplane travel wins, taking roughly 25 minutes less than AVE train.
If comfort is the deciding factor, MadridMan claims that train travel wins
over airplane travel. Why? Train travel involves faster lines in
security, less standing/waiting for the actual trip. Plus, on
long-distance trains you have a greater range of motion, more space per
seat, wider aisles and more abundant, larger restrooms. There's also a
selection of recorded music "stations" to which to listen with the
free, provided earphones as well as at least one movie. Not sure how
they'll show entire movies on the new shorter/faster train routes
though. And maybe the best thing about train travel is…. The Bar Car,
almost always open, is ready to serve the passenger breakfast, lunch,
snacks, sandwiches, beer, or coffee while standing at the bar or along
the large windowed walls, providing oftentimes wonderful views of the
(in this case) FAST-PASSING countryside. And the "Captain" never saids,
"Please return to your seats. We're experiencing turbulence."
The Alternative: Bus Travel
from Madrid to Barcelona: The trip takes between 7.5 and 8.0 hours and
costs between 27 Euros and 37 Euros. The bus company making this route
is ALSA. Saves 10-20 Euros but takes, ugh, 4-5 hours longer. My lower back tightens just thinking about it.
Watch the sparkly 6-minute RENFE Madrid-Barcelona AVE video at http://www.renfe.es/video.html with nice music and visuals. No language spoken but Spanish textual details are given regarding the trip.
The Down Low: If one can make
their purchases via the website (one must first create an account and
have prior personal contact with RENFE, verifying your account at the
train station), it can really save a lot of time and add to the comfort
and pleasure of the trip – including the same at your destination.
There's nothing worse than arriving for your "Trip of a Lifetime" all
tired, worn-out, and stiff from a long trip – like how you feel after
getting off an overseas flight. I can't imagine spending 8-12 hours on
an airplane, landing in Madrid or Barcelona, and then taking an 8-hour
bus ride or getting on another airplane shortly thereafter.
Enjoy Spain's Vast Train Travel Network!
Share THIS on Facebook!