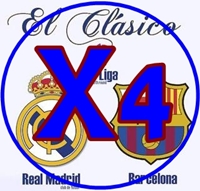 [CLICK HERE to read today's blog entry about tonight's Champions League game and how to watch online!]
Every year around this time, the Spanish press starts trumpeting headlines on the 'Partido del Siglo' or 'Game of the Century'. They're referring, of course, to Barcelona playing Real Madrid, and their claim, which can't be true of a game that's played at least twice a year, starts sounding believable in a somewhat exaggerated way once the referee blows the whistle and the match starts.
Practically nothing can compare to the tension of a Real Madrid – Barcelona, especially in a laid-back country such as this one. But all the strain between Spain's capital and its proudest city is set loose in the 90 minutes the game lasts.
So what's different this year?
First of all, the game won't only be played the set two times that La Liga mandates, one in Madrid and another in Barcelona. This season, both teams are also matching up in the "Copa del Rey" – King's Cup final (an equivalent to the FA Cup) and in the Champions League semifinal.
Real Madrid, traditionally the stronger team, hasn't won a single title in the past two seasons, a situation made especially painful in the 2008/09 season, when Barcelona carried every single tournament they participated in, a feat never equaled by any other Spanish team. Madrid has tried to match Barcelona's powers with the world's most expensive player, Cristiano Ronaldo, and coach, José Mourinho. Both come from impressive wins in the British and Italian leagues, but it could be that not even they are a match for what some say could be football history's greatest team. Their loss to Barcelona in the first half of the league, 5-0, is one of the most bitter the team can remember.
It has been many years since Real Madrid's game has matched their name. But despite disappointing performances, the team has managed to scrape two of the last five league titles, and last year won more points than any team in Spanish history… except for Barcelona that same year. Cristiano Ronaldo, the team star, has scored 40 goals this season, enough to have won him goal-scoring records. Except that Leo Messi, Barcelona's star, has scored 48. Real Madrid hasn't beaten their arch-rival in the past five games, with an unprecedented 16 – 2 aggregate score.
Despite all this, Madrid players and fans seem confident. Until now, Real Madrid has been able to beat every squad except for Barcelona. But the capital's team has something that Barcelona has always been lacking: self-confidence. No matter how amazing Barcelona's feats have seemed, Real Madrid has always followed close behind. Out of four games, fans reason, Madrid can surely take one or two. This first one, part two of the league match-ups, is the least important: the title will probably go to Barcelona, which is 8 points ahead with only 6 games to go. The King's cup is decided in a single game, and that could be one of Madrid's aims. Snatching a title away from Barcelona, a traditionally Republican team that paradoxically has more King's titles than their Monarchist competitors (the 'Real' in the teams name is a seal given by the King of Spain), could be the first step for a team that looks to finally shake Barcelona's confidence, an exploit that may be easier than it seems.
(above article commissioned by MadridMan.com – they know much more about this stuff than I do)
Share THIS on Facebook!