Recently I saw a "tweet" from El País notifying the public that their new English Edition was now online. El País is Spain's largest circulation newspaper and represents the barely-left-of-center political segment of society whereas the ABC Spanish paper represents the right. I've got to wonder when/if ABC will offer their own English Edition.
For those whom know, the .PDF daily version of El País has been provided by the Herald Tribune for many years. I've always liked that, 8 pages of articles with full-color photos. In 8 pages they cover the major topics: Front Page News about Spain, Opinions, Letters, & Editorials, World News, Business & Weather, Sports, and Arts. The nice thing about this edition is you can save the .PDF file to your hard drive and read it later.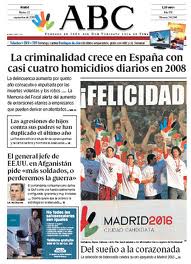 The new El Pais English Edition online covers all the above categories and more with probably twice the number of articles in English, maybe more. So I wonder if this is the precursor to the end of El País' relationship with the Herald Tribune and their daily .PDF version. Makes you wonder. I hope not!
Funny thing about Spanish newspapers. ABC proudly features bullfighting articles whereas El País doe not. El País features many more articles about arts and culture than does ABC. ABC features more on business & sports than does El País. Both feature many articles on politics but, well, that's the way it is. So, with any given inclination, the reader can choose what most interests them.
So whatever your political "slant", Spain has a newspaper for you – if you read Spanish. If you don't, El País is your first and only choice of national Spanish newspapers.
Share THIS on Facebook!