The following is a "guest blog" by Susan from Michigan USA, the first guest blog on MadridMan's Madrid Blog. Enjoy!
Last April 2010, my 16 year old son and I traveled to Madrid for spring break. We left behind the remainder of our family for some special time together before the looming college years. I wanted this to be memorable for Evan, so I asked his help in planning our itinerary. On a previous trip to Madrid by myself, I had enjoyed touring the clothing museum and visiting with friends. This time, we would travel with a teenage boy's interests in mind and for us, that meant sports.
I knew that Madrid had a soccer team. Doesn't everyone know about Real Madrid? During the months preceding our visit, I checked the Real Madrid website and sadly discovered that they were out of town the week of our visit. A quick consult to MadridMan forum and I learned that Madrid had a second team, Atletico de Madrid. They were in town, so that would be our game.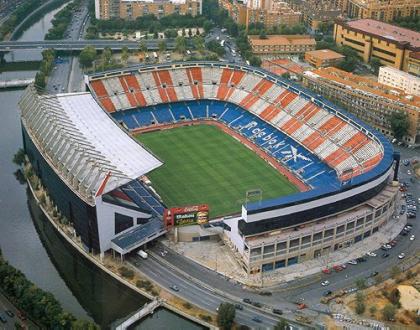 Purchasing tickets online for a game 4,000 miles away was a daunting task. Although I am proficient in Spanish, I still called my Paraguayan exchange student son over to the computer to assist me in my purchase. Looking at the map of the stadium, I saw that some tickets were as cheap as 20 Euros and ran to 100. I am of the opinion that you "get what you pay for", so I decided on some 60 Euro tickets. The map of the stadium did not say whether or not it was graded, so I hoped that we'd have a view of the field from our row 10 seats. I was perplexed why tickets on one side of the stadium at the same level as our tickets were so much more, but I later discovered that those seats were closer to the players' benches. The transaction went through on my credit card and all we had to do was pick up our tickets at the Vicente Calderon Stadium upon our arrival.
We got to Madrid on Saturday morning, the day before our scheduled game on Easter Sunday. This year, Easter would not mean egg hunts, chocolate bunnies, and church. We were celebrating with our first European soccer match. On Sunday morning, well, afternoon actually, but shortly after getting up, we headed south to the stadium to retrieve our tickets. After consulting with Rufino, the owner of our hostal, we took the number 50 bus from the Puerta del Sol to the Stadium.
Vicente Calderon Stadium is located in a decidedly non-touristy section of the city. I loved being surrounded by Spaniards going about their day and not hearing a word of English. Despite the fact that the game started at 9 pm, vendors were out setting up their kiosks to sell flags, scarves, sunflower seeds, and candy. We had no problem finding the ticket booth, although we walked all the way around the stadium because we picked the wrong direction. Since it was still several hours until the game, we returned to Old Madrid for some exploring and dining.
Later that evening, we made our second trip to the shores of the Rio Manzanares. It was still early, so we found a terraza where we could enjoy pre-game drinks and watch the red, white, and blue clad crowd beginning to gather. The opposing team was Deportivo La Coruña. Earlier, we stopped at a little store to buy bottles of coke and water to take in with us. These were stored in my travel purse. As we passed through security, the guard perused my purse, removed the bottles, took off the caps and returned the opened bottles to us. I asked why we couldn't have our caps and he told us that fans throw them on the field. Despite assurances from me that we would not throw the caps (Couldn't he tell we were Americans? We didn't even know you could throw caps on the field) we were not allowed to have those caps back.
Since I am an elementary school Spanish teacher in my daily life, I came to this game armed with a spiral notebook to take copious notes to share with my students. Our seats put us close to the field and the stadium was graded at that level so our views were perfect. I noted how the score board counted up by minutes, instead of down by seconds and even partial seconds. My students would be interested to see the ads for Nike, and Coke along with Spanish products. The field was watered constantly, as long as the players were not on it. But the most thrilling aspect was seeing this crowd who felt such a strong passion for their team. They shouted encouragement to the players, insults to the referees, songs for their team. It was an emotionally charged atmosphere and we were there, two foreigners in the midst of them.
During the halftime break, Evan went to order our dinner, armed with 4 years of Spanish study. He returned with our bocadillos de salchicha and the news that his favorite team (courtesy of FIFA 2007 and 2010 video game) was playing Atletico on Thursday and "Please, Mom, can we go?" This second game was part of a tournament and I wondered if the cost would be exorbitant. I reluctantly agreed to walk to the ticket booth after the game to at least check it out. The ticket booth was closed that Sunday night at midnight, so I thought perhaps the matter was closed.
The next day, we spent in Toledo with some friends. As we wandered the streets and shops of the town, Evan begged for a sword. (What is it about guys and swords?) I pulled out my "mom trump card": "Would you rather have a sword or go see the Valencia game?" Evan decided that he wanted both, but he realized that he wasn't going to get the sword, so he began working the soccer game angle.
On Tuesday, we made our third trip to Vicente Calderon to check out the tickets. Unfortunately, the ticket office was closed, but luckily, there was a sign advertising the office hours and we could return the next day for our purchase. On Wednesday, after a wonderful tour of the Real Madrid stadium, we rushed back to Atletico's stadium to buy our tickets. We joined a long line that snaked around the stadium and I thought that maybe they would be sold out by the time we reached the ticket booth, but they were not. We purchased tickets in the same section for the same price and I had a very happy boy on my hands.
The next day was the game and we felt like regulars in both the neighborhood and the local bar. They even served us free tapas with our drinks this time. Having learned from our previous visit, we entered the stadium with our bottle caps in our pockets and our drinks already opened. The crowd was massive. This game would put either Atletico de Madrid or Valencia into the semi-finals of the Europa Cup. Evan explained to me that if either team won, they would advance, but if there was a tie, Valencia had to have a score of 3-3 to advance, 2-2 to force extra time. The crowd was hysterical. There were people on their feet shouting and singing throughout the entire game. The section below where the Valencia fans were seated was empty, but that was the only area that was. I guessed that they didn't want problems between the fans. During the game, Evan pointed out that we saw superstars David Villa and Diego Forlan.
The game ended in a 0-0 tie, which meant that Atletico would advance in to the semis. The crowd was wall-to-wall people exiting the stadium and filling the streets. We were shoulder to shoulder for quite a while and we saw cars literally swimming in the people, unable to move in any direction.
I felt fairly safe speaking English to Evan. We wondered about the frenzy surrounding this 0-0 tie. We discussed the number of tournament qualifying games in the US that would result in a 0-0 tie. (none) and chuckled a bit over our American tendency to "always have a winner" and this Spanish tendency toward unbridled enthusiasm over "kissing your sister".
But this was an incredible experience for both of us. Evan had a fabulous time in Spain and began plotting his next visit on the plane ride home. Next time, he wants to go to Valencia and he will save up for a sword.
(MadridMan message: Thank you, Susan, for the blog submission. Very enjoyable and well-written. For those reading, this was a one-time guest blog entry – at least for now.)
Share THIS on Facebook!