Spanish Division leader Real Madrid faces Barcelona for the first time this season. This classic match up couldn't be more "Clásico"! Barça trails Real Madrid in the division by only one point – but position is not the only thing at stake here; PRIDE rules all, and Madrid hasn't beaten its rival since 2008. This'll be even harder to accomplish in Barcelona's Camp Nou Stadium, in front of a sold-out crowd of nearly 100,000 screaming and singing fans from both sides; mostly from Barcelona.
So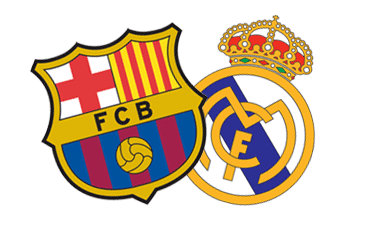 Real Madrid hasn't beaten FC Barcelona since 2008. That's a long time. That's shameful. And that hurts. But under the direction of the new coach, Jose Mourinho, there's new hope along with newer, higher expectations for this matchup. They say this is a new-and-improved Real Madrid team. They say this time they will face-up and conquer Barça, a perennially power. They say a lot of things. The proof is in the play so let's see what happens Monday night at 9pm. The Spanish leader Real Madrid and Barcelona are separated by only one point going into this season's most important game and both are in great form.
The fans are rabid on both sides as well – and not only for their team to pull ahead in the Spanish Division, but also because this is a pay-per-view event. Don't THEY know we're in the middle of an economic crisis?? This means many fans will gather at local neighborhood bars, pack living rooms to divide the cost to watch live on TV, and in front of computer screens searching the Internet to see if they can watch live online for free – or otherwise.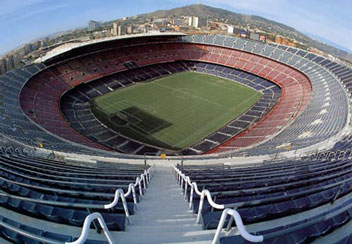 This is the first of two games these two leading teams will meet each other this season. The next will be in April and who knows where either will stand at that time – probably swapping leading positions with every game. And since this "El Clásico" is played in Barcelona's Camp Nou Stadium, where the attendance could potentially reach nearly 100,000, the phrase "hostile environment" has never seemed more appropriate. Should Real Madrid beat Barça IN Barcelona, expect car fires and riots in the streets. Hope shop owners remember to board up their windows.
Who will rule the pitch, "Scoring-Machine Messi" or "Pretty-Boy Ronaldo"? (to be fair, Cristiano Ronaldo is the current league scorer, leading Lionel Messi by 1-point) We'll all see soon enough.
Enjoy the game! But remember there's a lot of season left to be played – and another meeting in Madrid's Santiago Bernabeu Stadium in April 2011.
GAME RESULT: Barcelona beats Real Madrid – again – in "El Clásico", 5-0.
Share THIS on Facebook!