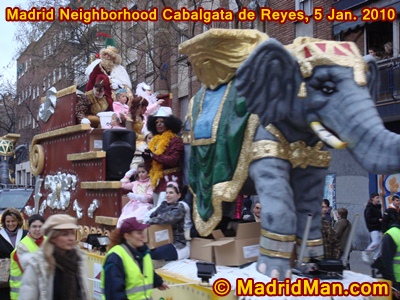 Today, 5 January, is the day before Magic Kings Day or "Dia de los Reyes Magos". It's this night when the Magic Kings bring all good boys and girls gifts, leaving them in their shoes and socks. Children not only leave a snack for the Three Wise Men but also water for the camels on which they arrive.
Today's also the day when the 3 Wise Men parade down neighborhood streets throughout Madrid in "carrozas" ("floats") "Cabalgatas de Reyes Magos". These started today at about 5:00pm.
There's also the BIG "Cabalgata de Reyes Magos" marching down the Paseo de la Castellana as I type this. (It's on the TV behind me) This big Cabalgata parade started at 6:30pm and will reach the Plaza de Cibeles at about 8:30pm.
As in all Cabalgatas, the Three Wise Men are represented; Melchor, Gaspar, & Baltasar. Oddly enough, King Baltasar, both on Madrid's wide Paseo de la Castellana as well as in my neighborhood Cabalgata, is represented as a black-face-painted white man. It's odd because I wonder why they couldn't have used an actual black man. Would that be racist? Or is it more racist to have a white man in black face paint? Hmmm… I'm racially confused. Does that make ME a racist???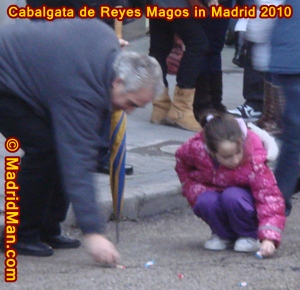 Not only did the Kings throw tens of thousands of pieces of candies ("sin gluten") at the rabid, anxiously waiting children with their bags and upside-down umbrellas to catch them, but so did the Kings' helpers. Even I grabbed a few pieces. Many grandparents were seen scrambling in harm's way of the near-passing floats to grab candies (presumably) for their grandkids. I still wonder why a big deal is made about the candies being "sin gluten" (gluten free) as candy never (?) has gluten. Products which do often have gluten are products made from grains and meats.
The small, neighborhood Cabalgatas are usually quite short. My neighborhood parade only lasted about 15 minutes maximum, maybe only 10, and I waited 30 minutes for it to arrive. I must have looked odd standing there all by myself, an adult with camera in hand, waiting for the Cabalgata de Reyes. The "stars" of the parades are the Three Wise Men, all riding their own floats. Other floats contain children representing different associations, neighborhood associations, senior centers, and always an international float representing a number of different cultures. I had to wonder why a float of (children) Native American Indians with tee-pees were there, though.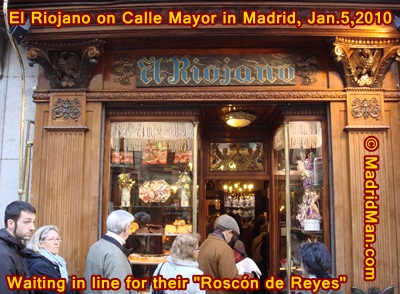 I'd gone downtown earlier today to Madrid's Puerta del Sol's "La Mallorquina" pastry shop to buy the typical (and arguably the best) "Roscón de Reyes", the typical pastry for tomorrow's Dia de Reyes Magos. Luckily they had 5 people working feverishly to serve the ever-entering public. I was CERTAIN there'd be a long line outside the shop but there wasn't, only 8-10 people waiting at the counter making their orders & receiving their Roscón nearly immediately after being boxed up in a pretty pink octagonal box. But to get OUT of the shop I literally had to balance the box on my head, ever saying "Perdóname. Perdóname." to get through the oncoming tied of people. I must've been a sight. Tomorrow morning for breakfast we'll see who'll bite into the "prize", hoping the "second prize" isn't a trip to the dentist office for a broken tooth.
Share THIS on Facebook!