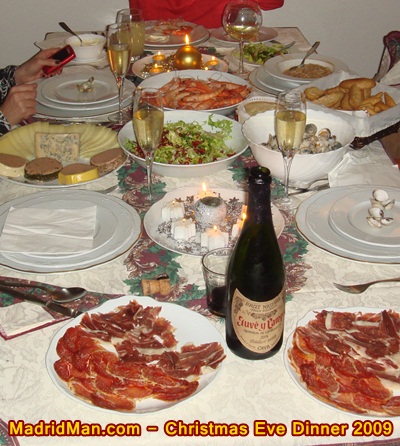 I've just returned from a wonderful Christmas Eve dinner with Spanish friends, through and through. The dinner consisted of a tasty fish soup with rice. Delicious. At first reading, many Americans hear "fish soup" and immediately they furrow their brows and wrinkle their noses. I was the same way before moving to Spain.
Christmas Eve dinner was simple. It consisted of the first course, the fish soup, and later the array of fine embutidos of Jamón de Jabugo, Lomo de Bellota (all the best-of-the-best), langostinos (fat shrimp), berberechos (small clams), patés and Manchego cheese, torta del casar creamy cheese, blue cheese from Austurias, and a variety of breads. It was all delicious and we all partook while passing around the bottle of Spanish Cava.
The evening ended with conversation, turrón & polverones, and the children playing the Wii. Never ending fun. So now I'm home, writing this blog, and mentally preparing myself for tomorrow's Christmas Day lunch; a baked turkey, prepared by me as well as green bean casserole. Oh, and there'll be lots of red wine too. The guy from whom I buy my embutidos and cheeses "gifted" me a 12-year old bottle of Reserva Rioja red wine yesterday after buying the high-end jamón and lomo for tonight's dinner. What a nice detail.
Tomorrow's Christmas Day. I have a few gifts to open which were sent by my parent but that's all. Here in Spain, I'll have to wait 'til Magic Kings Day on the 6th of January.
Merry Christmas & Feliz Navidad, everyone!!
Share THIS on Facebook!