I've never won anything before. But last Tuesday it happened. I ACTUALLY won Spain's Christmas Lottery! Overwhelmed, jubilant, and in denial, I checked my numbers online once, twice, even a third time to be sure I wasn't mistaken. Nope. The numbers all checked out. I had just won the freakin' lottery!!!!
Word spread fast (by me). And before I knew it friends were calling, text messages and emails were received to congratulate me on my luck. Surprisingly to me and everyone, I even kept my dental appointment that day and, upon making the announcement, the entire staff was quickly hugging and kissing me with congratulations.
When I realized I held the winning numbers my mind started to wander. I started to daydream. "Hmm… What do other people do when they win the lottery?" I asked myself. I guess some buy new houses or renovate old ones, new cars for sure, wall-mounted state-of-the-art televisions in every room is a given, a new wardrobe, fancy meals at upscale restaurants, and, of course, "sharing the wealth" with family and those friends in need.
But I had to be careful. One shouldn't squander good fortune. I must be wise with my winnings. Maybe I should invest it. Maybe I should give it all to charity. Maybe I should put it under the mattress until I figure out what to do with this "found money".
Suddenly, I feel I'm walking among those whom I always thought were better than me simply because they had more money, faster, shinier cars, or trophy girlfriends. Suddenly, I feel they're no better than me at all. No, really, they never were better than me but the perception is always there when you don't have enough cash to buy exactly what you want and when you want it.
Now, after two days passing since Spain's Christmas Lottery, with nerves finally calming and mind more at ease with the realization, I've finally decided what to do with my lottery winnings so now I can relax. NOW the fun begins.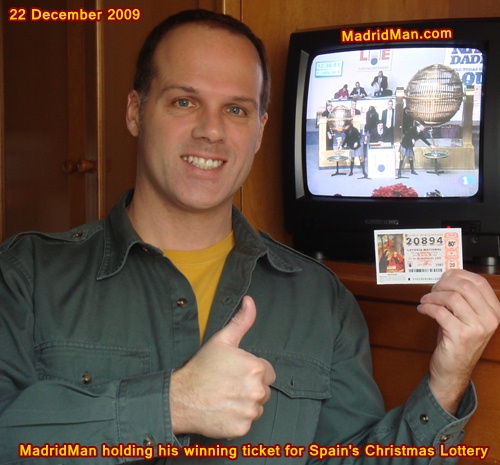 (Photo Above: Doesn't he look proud?!)
Oh, HOW MUCH did I win, you ask? My one décimo lottery ticket won 120 Euros!!!!!! But….. since I'm sharing that with 4 other people, my part comes to 24 Euros, just enough to buy me one really good lunch. And how much did I spend on lottery tickets to win those 24 Euros? Answer: 200 Euros. Oh well. Winning is winning, right?
Didn't I mention that thousands of people won something in Spain's Christmas Lottery?? Only a small few win big prizes, the largest (incredibly) being only 3 million and 1 million Euros. Amounts go down from there.
Share THIS on Facebook!