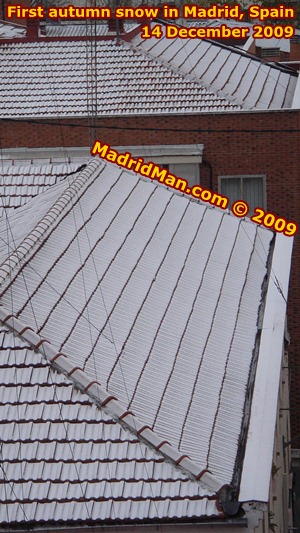 When I went to bed last night I looked out my balcony window towards the south and saw a long line of thick clouds approaching, slowly covering the otherwise clear skies. Much was said on the radio, TV, and online about this morning's snowfall but I gave it little heed. It SO RARELY snows in Madrid, even in the winter and here we are still in autumn.
But sure enough it came. I woke up at 7am to not only see a totally overcast sky but also little snowflakes visible under the street lights as well as some dark-colored cars covered with the powdery stuff. I guess winter is upon us, albeit early.
Little else was discussed on Telemadrid's morning show from 9:30am to noon. In communities like Madrid, where it almost never snows anymore, a few flakes throw the otherwise fair-weather drivers into a panic, causing accidents, traffic jams, and a lot of people late to work.
Sadly, for me, the sun came out late in the morning, revealing the more typically clear, blue Madrid skies and melting what little snow had fallen.
See the EuropaPress YouTube video below of this morning's snowfall in Madrid (in Spanish).
Share THIS on Facebook!