Tonight is New Year's Eve in Madrid, Spain and, of course, throughout the world.

How do people celebrate New Year's Eve in Madrid and throughout Spain? Unlike Christmas Eve, which is an important family-gathering holiday, New Year's Eve (called "Noche Vieja" in Spanish) is more for gatherings of friends, going to parties, going from house to house to have a drink and personally give well-wishes. Many Spaniards do stay at home with family – almost by default – but many young people will venture out into the night.
What is there to do on New Year's Eve in Madrid? LOTS! If you're young and energetic, you'll not only go to parties at people's houses but also to the small "bares de copas" (i.e. "drinking bars") and small clubs around the city. If you have some money, you may choose the 70+ Euro entry-fees for the BIG, organized parties at some of the large discotheques and restaurants. If you're young and poor, you may find yourself at a "botellón" with your friends in some public park, drinking cheap wine from a box mixed with coca-cola (called "calimochos"), peeing behind trees, vomiting in bushes, and generally having lots of "fun".
Still, year after year, hoards of people gather in Madrid's Puerta del Sol (the "Times Square of Madrid") in the hour before midnight, awaiting the 12-chimes from the square's bell tower. The chimes cannot be heard over the din of the crowd so chances are good that the ball will drop and they'll illuminate the "Feliz 2009" sign. The custom in Spain is to eat one olive with each of the twelve chimes of midnight – if you can – and then kiss your loved-ones and strangers around you, wishing them a Happy New Year. These years, very few people FROM Madrid actually go to the Puerta del Sol. Most people occupying the Puerta del Sol for New Year's Eve are Spaniards from other parts of Spain as well as foreigners & tourists visiting Madrid just for New Year's Eve.
Getting dinner reservations in Madrid on New Year's Eve is VERY difficult. Most are booked for at least one month in advance. Many smaller bars, restaurants, and shops will close by 6pm on December 31st as the proprietors spend time with their own family and friends. The downown tourist bars, which are mostly open late into the night, are usually too full to enter – let alone speak to anyone because the noise is so loud.
Shortly after midnight begins the millions of calls and text messages to friends and family, wishing them a Happy New Year, forwarding poems and well-worded well-wishes. Year after year the phone and mobile phone lines are choked with these calls, the system is overloaded and one cannot connect.
I've been to the Puerta del Sol only one time for New Year's Even in Madrid and enjoyed it. The night I was there it was blisteringly cold and we nearly froze to death waiting for midnight. But it was fun to be there and see how it was. Tonight, I'll enjoy a quiet night at home with the people I love – some of whom are too old to go out so I'll keep them company.
But regardless of where you find yourself in Spain, one thing is a near
certainty; you'll bring in the new year eating those twelve grapes with
the 12-chimes of midnight, either with family, friends, or total
strangers.
2008 has been difficult for many reasons for many people, not only economically and professionally, but we've lost friends and family to disease or old age, broken relationships, and the list goes on. We must cheris the wonderful which have happened in 2008 and remember those whom are worse off than you. Take care of the older folk, lend a hand to those who can't, do good deeds as often as you can, and tell the people you love that you love them. Who knows, they may not be around for the next New Year's Eve – you never know. Cherish them.
MadridMan wishes each and every one of you peace, love, and a wonderful 2009.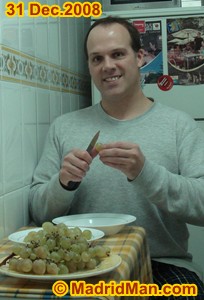 1 January 2009 Update: MadridMan had an enjoyable New Year's Eve at "home" with the people he loves, danced a little in front of the TV with the musical performances (all lip-synced, of course), ate a good meal of embutidos, cheeses, and paté along with red wine, white wine, and champagne at midnight.
Earlier in the evening I was given the responsibility to "prepare" the 12 grapes for everyone in our group (5 people) for the 12-chimes of midnight. This is no easy task. (See photo at right) It took me about 1.5 hours to prepare the 60 grapes. Why so long? Because you have to carefully remove ALL the seeds with a sharp knife without cutting the grapes in half! Also, one person in our group requested "peeled grapes". Hmph! NOW, THAT IS A PAIN IN THE @SS!!! It takes about a minute to peel each grape, lots of concentration, and a sharp eye. After that's all done you have to carefully wrap them in aluminum foil (not sure why it has to be aluminum foil but it does).
Below, you'll find a couple videos someone posted on YouTube of the celebration in Puerta del Sol. Happy New Year, everyone!!
Share THIS on Facebook!