It rarely snows in Madrid. But it did today – "AND HOW!" (said Spanky to Alfalfa)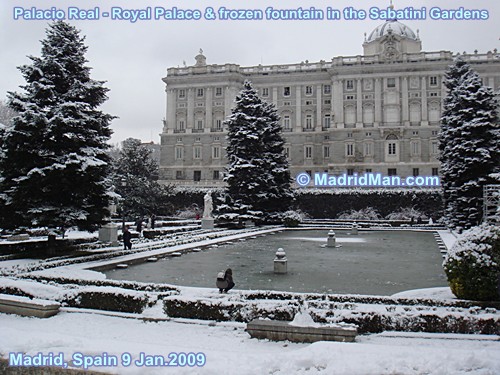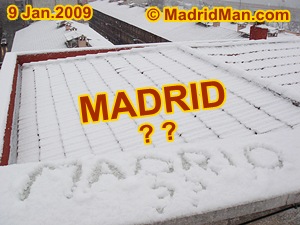 I was only 3 hours into my slumber (after staying up all night watching the BCS Championship game for United States university football) when a friend text messaged me at 9:30am, saying it was snowing in Madrid. I couldn't believe it. But sure enough, there it was, falling from the heavens like tiny little pieces of fallout ash – although much less dangerous.
Today was a tough day at work(home) but I enjoyed the scene from my window. Just before lunchtime I had a meeting downtown on Madrid's Gran Via and was excited for the opportunity to see the snow up close and personal in my adopted city. The tree tops were weighed down by big clumps of snow, people carried umbrellas for protection, and dogs tippy-toed while quickly doing their "business" in the white stuff, careful to protect "the goods".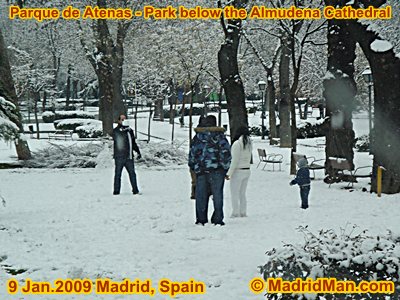 Getting off the bus next to the Royal Palace / Palacio Real, I first walked through the Jardines de Sabatini next to the palace. The grounds were full of adults, most all toting professional-looking cameras and taking photos of the anomaly we were all experiencing. Many of these photos, like mine, would likely wind up in blogs, Facebook pages, Flickr accounts, and on other websites, giving proof to their future exclamations, "I remember when it snowed truckloads in Madrid in January 2009!!" Other adults were obviously there to re-live a bit of their childhood, throwing easily-packable snowballs at their unsuspecting friends. It was all quite a sight, one which gave be great joy after living 3 years "Snowless In Madrid".
I'm an Ohio boy, you see, one who's accustomed to 15-foot snow drifts, ice-skating on frozen farm ponds, and spending many sweaty hours with the snow shovel in sub-zero temperatures, making enough space in our country driveway to "punch" the pickup truck through to the main road. On these latter occasions, I'd invariably return to the house with numb fingers, feet, and face, looking just like the snowmen some of the distant neighbors were making in their back yards. But here in Madrid, I got a fleeting taste of a northern United States, midwestern winter. Just a taste. And it was good. So good it made me smile. So good it made me feel like a kid again too.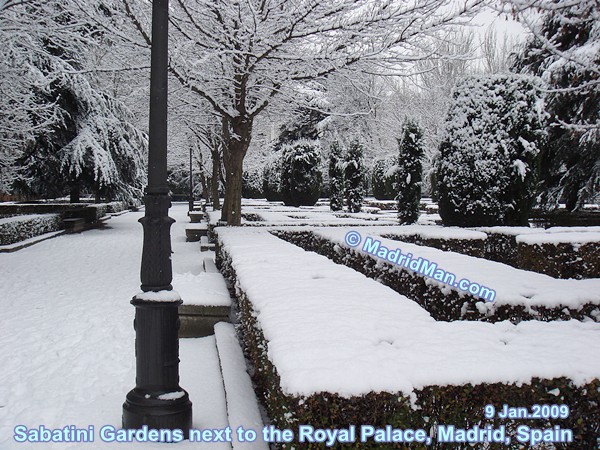 After the Sabatini Gardens I walked through the Plaza de Oriente, the place between the Royal Palace and the Opera House, and walked uphill to Gran Vía where I found lots of traffic and lots of people despite the weather.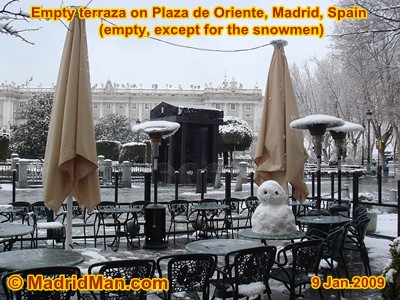 I understand there were (or still are) several hours of delays on the M-40 near Madrid Barajas Airport due to the weather. The entire local morning television coverage focused on the snow, outdoor interviews with foreigners whom had never seen it before, speaking with older generations stating how it used to snow every winter in downtown Madrid but now it rarely does. All this media coverage, to a midwesterner, makes me shake my head. This, to me/us, is a near-daily event in the winters of Ohio, USA. No big deal. There, in winter, they spend 5 minutes talking about the day's weather forecast and then move on to sports. Here in Madrid and throughout Spain, the news-of-the-day IS the weather.
For 3 years I've been waiting for this day, anxious to see snow in Madrid. And it finally came. I welcome it with open arms, open mouth, and an open spirit. NOW it feels like winter. The great part is, "they say" it'll continue snowing through tomorrow. To that, I SAY, "LET IT SNOW. LET IT SNOW. LET IT SNOW!!!"
Below: 1-minute video of the Madrid snowfall, overlooking the Royal Palace and Sabatini Gardens.
Share THIS on Facebook!