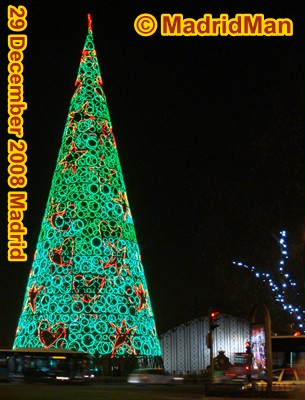 Every year for the past few years, the Madrid tourist office has organized a "Bus de la Navidad" or Christmas Lights Bus (website only in Spanish). It's a double-decker bus which, this year, only picks up passengers at its one stop at the Plaza de Colón. Tickets are bought on the bus for 1 Euro each. CHEAP! The one-stop idea was a good one. In past years the bus stopped throughout the city as long-suffering would-be passengers were constantly turned away as another full-bus passed them by. The only problem is… and it's a BIG problem.. the lines are SO LONG that you'll likely wait in line 2-4 hours for the 1-hour bus ride.
We arrived at 7pm to find a line around 250 meters long, winding back and forth, much of it under surface level UNDER the tower of Christopher Columbus on Plaza de Colón. Children were running and playing everywhere while their parents stood solidly in line, moving when the next bus would come and fill ONLY the top deck of the double-decker bus. I estimate there are no more than 15 rows X 4 persons per row, that's 60 person total per bus.
I'm not sure how many buses run the tour but there are at least 4. And if each bus takes 1-hour to make the loop, that's roughly mean a new bus would come to re-load every 15 minutes. We waited in line for only about 10 minutes and decided not to pay-the-price with our backs, legs, feet, and patience.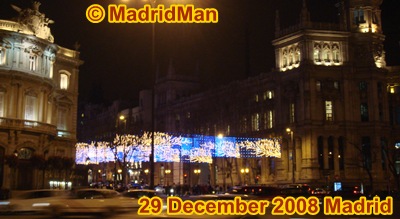 So we left. Dejected. We walked down the Paseo de la Castellana and admired the lights on foot to the Plaza de la Cibeles. Down the Paseo del Prado there were pretty lights and at least 3 different Christmas trees. Very nice. We reached the Glorieta de Carlos V (a.k.a. "Plaza de Atocha") where we stopped in to a crowded El Brillante bar for bocadillos de calamares (fried squid sandwhiches), patatas bravas (diced, boiled potatoes in a spicy red sauce), and beers. That was nice. Possibly the highlight of the evening!
So much for the Christmas Lights Bus. I doubt we'll even try next year.
Watch the below promotional video, created by the City Madrid, about Madrid's Christmas Lights for 2008.
Share THIS on Facebook!