"Use the Force, Luke."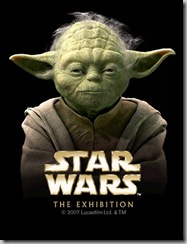 Yesterday, I and two Spanish buddies went out on an "
Excursión de Chicos
" to the
Star Wars Exhibition in Madrid
. I'm not a SuperFan of the Star Wars movie series (particularly not the 3 modern episodes) bit did see the 3 first movies about 15 times cumulatively in the theater between the ages 12 and 18. I think I've only seen 2 of the 3 last 3 episodes and wasn't impressed with the stories.
Madrid is the last (listed) stop on a 6-City European Tour which started in November 2006 in Lisbon, Portugal. It has since passed through Porto, London, Brussels, Örnsköldsvik (Sweden) and now Madrid. No telling if there will be other, later-organized tour stops in Europe after Madrid, though.
The night before I'd bought the tickets online and thought it best to do so rather than wait in an extra line to buy them on the spot. Tickets were 10 Euros each (5 Euros for those under 12 or over 65 and for teachers and students) and had to choose an hour for entry. We chose the noontime entry because we were all going by metro from the opposite end of the city and knew it would take time to get there.
The Star Wars Exhibition in Madrid was ARRANGED in the "Fundación Canal" center, just below the tall water tower on the Plaza de Castilla in Madrid's northern end. Entry to the exhibition site itself is on the Paseo de la Castellana, just south of the "Plaza de Castilla" metro station, and about 150 meters from the two slanted offices buildings called the Torres Kio (a.k.a. "Puerta de Europa").
Upon arriving at about 11:45am, there was a long line and it was
totally (and totally typical) unknown what line was for what. So one of our party went ahead to find out and waved us inside. The line we in which we were originally standing was to BUY tickets – not for those whom had already had tickets as we did. WE THOUGHT! So we finally get up to the door and the ticket-taker told us we had to go across the way to get actual paper tickets, not the bar-coded print-out I'd brought along. UGH! At least she let the two of us stay there while the third guy in our party went to retrieve the tickets at a kind of vending machine. 5 minutes later we were with tickets and inside the exhibition hall.
In my haste to get myself ready for the trip across town, I forgot my camera. I didn't worry about this much because I thought, maybe, visitors wouldn't be allowed to take photos of the exhibition itself due to copyright stuff. BUT I WAS WRONG! People were taking photos left-and-right, flashes going off everywhere, people having their photos taken standing next to the Darth Vader costume, and all the
while the attendants were milling about, not saying anything. And there I was without my camera. (not that I would've taken many photos, I don't think). There's another blog (in Spanish), called "Pasion Pulp", detailing his visit last month to the same Star Wars Exhibition, and showing LOTS of photos of the Star Wars displays – including Darth Vader.
I was only somewhat surprised to see so many children at the exhibition. Probably half of those were under 12 years old (5 Euros each) and I assumed none of these children had seen any but maybe the last episode in the cinema. Probably most of these kids were the children of fan-or-semi-fan-parents. But no one came dressed up in Star Wars costumes, thank goodness.
The Darth Vader section of the exhibition was, by bar, the most popular section and packed with people, everyone wanting an UNobscured photo of themselves next to the display – which was nearly impossible with so many people positioning themselves for a better view.
There was also a large screening room which showed a 15 minute video on the making of the earlier Star Wars movies and this was interesting. Each of the other 7 or 8 rooms also had short videos playing in wall-embedded screens as well as larger, wall-projection movie scenes. The different rooms were mainly categorized by "Planet", containing "indigenous" characters and costumes, models and videos. Lots of descriptions were available on wall-spaces in both English and Spanish.
All in all, the Star Wars Exhibition was well-worth the 10 Euro ticket for entry. There was even a free "Jedi School" into which we considered enrolling ourselves for fun. But upon arriving we learned all "slots" were full and only accepting "applications" for later dates. Too bad. I guess I'll never become a full fledged Jedi Master – and will merely have to continue with my untrained mind-powers of closing doors or knocking over cans from a distance.
Saludos, MadridMan (staying far away from "The Dark Side")
Share THIS on Facebook!