Google Maps recently revealed it's Super Cool 360º "Street View" function for the Spanish cities of Madrid, Barcelona, Seville, and Valencia. It's a great way to take a virtual stroll through these favorite city streets.
One you go to Google Maps, type in an exact address in the aforementioned cities or just simply the city and country in to the search field. Once there, click the "Street View" button in the menu towards the upper right hand corner of map to show, in blue lines, which streets are covered by the Street View function.
If you chose the city-general Google Maps and see the available streets outlined in blue, double click the street you'd like to see in "Street View" and another window will pop-up on top of the map giving a 360º view of that location at street level. You'll see graphical lines and arrows showing the names of the streets. Click the arrows to move forward or backward, click-and-drag around the Street View image to move anyway, spinning around throughout the photo, up and down, 'round-and-'round, zoom in and out. It's super cool!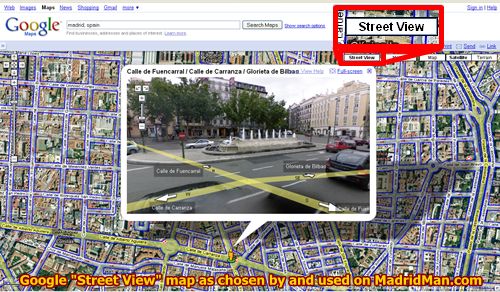 A number of the pedestrian streets and not all of the city streets have been mapped though. For example, almost none of the streets in the old Santa Cruz neighborhood in Seville are mapped. NONE of the streets in the Gothic Quarter in Barcelona are mapped. About half of Valencia's old town are mapped and most all of Madrid's old downtown is mapped.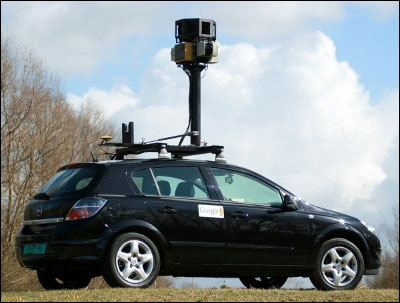 The Google Street View cars were driving throughout The Top Four Spanish Cities last spring 2008 and just recently made this cool, new function available. Many of the big cities in the United States of America are already mapped. While I didn't see the cars myself in Madrid, I did find the photo of them (to the right) on the internet. They're a strange-looking vehicle with the tower-camera mounted to the roof of the car. While it drives through the city streets it takes a series of photos of a given location. Those photos are then stitched together, creating the 360º image. I have to wonder how long it took them to drive through these cities. Maybe only 2 days each! You can see the different heights of the sun in some photos, going from one corner to the next, sometimes it's cloudy and then 100 meters later it's sunny.
So if you'd like to take a stroll down Memory Lane from a long-past visit to Madrid, Barcelona, Valencia, or Seville, visit Google Maps, go to an address or, generally, one of the aforementioned cities, and take a virtual stroll to see how it's changed.
Share THIS on Facebook!