Today, while much of the country was either watching Madrid's Fiesta Nacional / Día de la Hispanidad military parade on TV, yours-truly was enjoying noontime classical music in the Teatro Real (The Royal Theater & Opera house in Madrid) and then a 2pm lunch at a nearby restaurant.
HAPPILY, though, I was able to see the raising-of-the-Spanish-flag ceremony with King Juan Carlos on television before leaving the house. At the same moment, the fighter jets flew down the Paseo de la Castellana, releasing their red, orange, and red (?) spray/powder/toxic gas over the city in order to form the stripes of the Spanish flag. What is that stuff made of and is it dangerous? I think that's a good question for the environmental professionals.
Running late, I grabbed a taxi and went to the Teatro Real and enjoyed nearly 2 hours of several different groups performing various classical music arrangements. Very nice.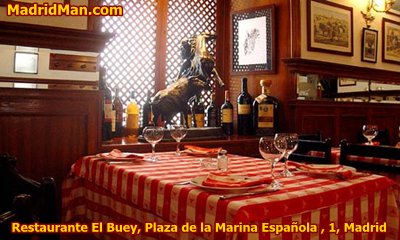 After the concert some friends and I walked to Restaurante El Buey where we had 2pm reservations – and arrived JUST ontime. The restauran'ts located only about 4 blocks away on Plaza de la Marina Española , 1, just in front of the Senate building.
PHOTO AT RIGHT: This photo, taken from their website, is the exact location of our table.
The restaurant itself is nice looking, somewhat rustic traditional but a bit cramped for our 6-person group, the chairs seated literally side-by-side, wood-to-wood. But for 4 people it's fine.
I'd been to this very good steak restaurant about 5 times before and this time didn't disappoint either. We ordered the house red wine which was good, the house salad which was lettuce under a layer of mayonnaise and grated cheese, fried potatoes, and – drum roll please – the lomo de buey.
What is "lomo de buey"? Literally, it means the back meat of an ox. But…. it's actually just beef steak. They serve the meat sliced into thin rectangles, covered lightly with rock salt, and they put it in the middle of the table. Next, they bring searing hot ceramic plates for each person on which the patrons can take a few meat slices and literally braise or cook it on their plate, being quick to turn it after a couple seconds or it will stick to the plate. They also provide a delicious pepper sauce with which one can put on the steak. Mmmm.. It's SO good.
There's no smoking in this restaurant but you wouldn't know it for the thin layer of smoke wafting through the restaurant – generated by the searing meat at nearly every table. This kind of environment does not allow a cool and refreshing atmosphere, however. The place is darn hot most of the time, PARTICULARLY after they bring you those red-hot plates and put them right in front of you. I was sweating! (but it doesn't take much to make me hot)
The steak is good, VERY good. And this restaurant is one I recommend to everyone, even on the Madrid Restaurants page. You'll find few tourists in this places because it's somewhat hidden and off the main tourist trails. The service is good too, very professional, and we've had the same waiters these last several visits. The bald man with the cool classes is particularly charismatic. We were 6 persons and, with dessert and coffee, our bill totalled just about 140 Euros.
Today, Sunday, Fiesta Nacional and La Virgen del Pilar – it was for the latter that we were celebrating the day because it was the Saint's Day of one person in our group – was a very good and enjoyable day. The rain held off and the temperature was perfectly comfortable.
Just another day in paradise. My paradise. My Madrid.
Share THIS on Facebook!