Today I spied these two construction workers taking an afternoon nap in front of a new building in my neighborhood. (see photo at right)
I'm sure their boss/foreman doesn't mind sacking-out after lunch but it's such an odd sight to me. Surely NO ONE in the USA would be permitted to take a nap while on a construction site – whether on or off the clock!
But this is far from unusual. Of course, people working in offices can't take a siesta, probably because they don't have a long enough lunch break to do so – or maybe they would! Only where establishments close for 3+ hours can the workers take a serious break to eat, sleep, or even visit with family.
The photo below is of the same building but taken earlier in the construction phase in 2007. This guy was sleeping soundly for at least a good hour. I've no doubt the work is hard and maybe these guys have too many aches and pains to sleep well during the night. Who knows. If they're allowed to nap after lunch on-site, I say let them catch up and rejuvenate for the next 4 hours of the work day.
Whoops! Speaking of afternoon naps, I MISSED MINE!! (that's a first)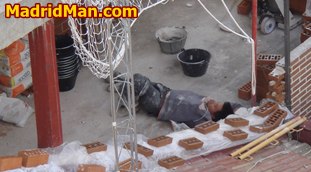 Share THIS on Facebook!