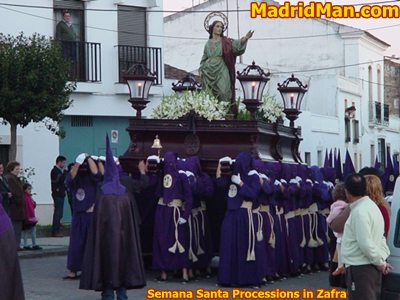 Semana Santa, or Holy Week, is in near-full-throttle position here in Spain. While today's only Friday evening, one notices immediately fewer cars in the streets and the more traffic on Spain's highways. Madrid, on the other hand, will be comparatively tranquil with little traffic and lots of available parking spaces as seemingly half the population leaves town.
SOME PEOPLE like students, teachers, and some businesses, take the entire week off while many others only close only on "Jueves Santo" or Holy Thursday and through Easter weekend.
Other people will go to the family home in the "pueblo" for rest and relaxation while many others go down south to Sevilla, Granada, Córdoba, Cádiz, or the beaches of Málaga.
Still others will take advantage of the free time to fly to France or Germany or even to the United States where the exchange rate is VERY favorable for those carrying Euros.
VERY unfortunately, the weather forecasts for Holy Week in Spain are not very positive, expecting cloudy skies and some rainy conditions throughout Spain accompanied by cooler temperatures. None of this is surprising since Easter came SUPER early this year.
Many people will be enjoying the religious processions throughout Spain too, including in Madrid. I hope I'll have the opportunity to see some as I'm staying here this year although I'd love to get away for at least a few days. Oh well. I guess I can wait until the following week when I expect to spend 6 days in Granada. Hope the weather's good there. We'll see.
Links:
MadridMan Guest Blog: Semana Santa – Holy Week in Seville
http://en.wikipedia.org/wiki/Holy_Week_procession
Share THIS on Facebook!