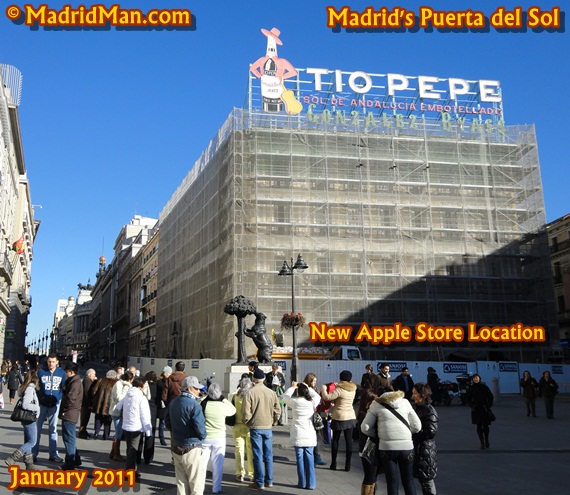 Folks, it's official. They've signed the lease. The much-rumored New Apple Store in Madrid, Spain will likely be inaugurated at the end of 2011 or beginning of 2012. It will be located in the emblematic Puerta del Sol, specifically at Puerta del Sol, #1, the oft-photographed building with the neon sign "Tío Pepe" watching over Madrid's busiest plaza.
While I'm not an Apple user, I can appreciate the excitement over such a decision on many fronts. First, this will be only the second Apple Store in Madrid and the first in downtown Madrid. The FIRST Apple Store in Madrid was set-up in Xanadú Shopping Center in Madrid's outskirts, forcing users and fans to go by car or (multi-line) bus only. Second, this is big for Apple. Surely this will boost business to new Spanish heights. Thirdly, and maybe most importantly, the move has breathed new life into a beautiful building in Old Downtown Madrid, a building which has been empty and decaying for the last 5-years and, frankly, an eyesore for anyone glancing its direction. Now, or soon, the building holding up the neon sombrero-wearing sherry bottle "Tio Pepe" sign will have a fresh, new look.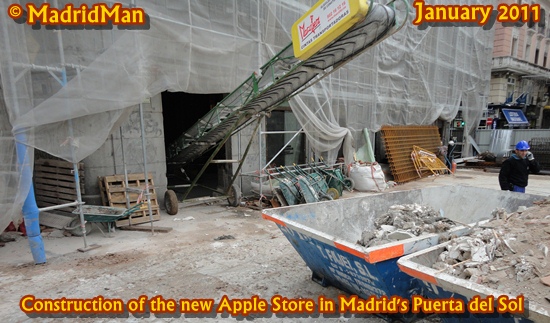 The building, if not for Apple, would continue being an eyesore, the lower level covered in graffiti and posters pasted on top of one another. They say the lower 2 floors of the newly renovated building will occupy the new Apple Store. The upper floors, as required by city officials, will house a new 3 or 4-star hotel.
The building's owners, privately held by a Mexican family – the same family which owns the nearby Hotel Regina building next to the Madrid Casino – tried to sell it 5 years ago without success. And now, in hard economic times, its prime location and dilapidated state, and Apple's ever-deepening pockets, it's a good time to buy. (although we don't know yet for how much)
Puerta del Sol, #1 has a total of 7 levels including a large basement covering 6,673 square meters and a central patio. The neon "Tío Pepe" sign atop, a protected Madrid City Landmark, is required to "travel" with any future owners of the building. Whew!
Below Video: YouTube video of the construction of the new Apple Store on Madrid's Puerta del Sol. Recorded 14 January 2011.
Share THIS on Facebook!