What a wonderful Monday evening I had last night in old downtown Madrid. About 2 weeks ago I get this email from a couple of Americans with the subject line, "Show us the ropes for free tapas and drinks?" Talk about intriguing! Of course, I opened it immediately.
Turns out they were a 30-something couple of New Englanders living in Kentucky and working a cattle ranch – but both had other day-jobs. They were such a beautiful couple, pleasant, funny, educated and open minded. The 5.5 hours we spent together on our Tapas Crawl in Madrid went by all-too quickly.
We'd arranged to meet at their hotel near Puerta del Sol at 7pm – an EARLY HOUR to start a tapas crawl in Madridl! But it was also a Monday and I assumed they'd want to make it an early evening as they'd just flown in to Madrid the morning before and would be tired. Man, was I wrong. They were READY TO GO!!
We walked toward the Museo del Jamón on Calle de Victoria and Carrera de San Jeronimo, thinking that might be our first stop but they'd told me they'd been there earlier in the day for a sandwich of jamón serrano. Hmmm… What if they'd visited the next Madrid tapas bars already as well?
The truth is, I'd spent the previous week somewhat stressed about this tapas crawl, deciding where to take them and memorizing the path, wanting to give them a good tapas experience in Madrid. Afterall, this was their first visit to Spain and, well, let's be honest, it's the least I could do as they were paying my way through the evening!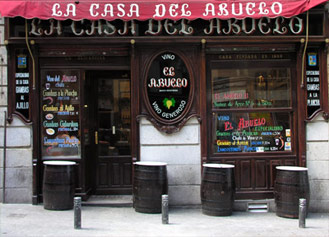 We continued up hill on Calle de Victoria, making our first stop of the evening at the La Casa del Abuelo on the corner of Calle de Victoria and Calle de la Cruz, where we enjoyed their typical "gambas al ajillo" (shrimp sautéed in garlic with a spicy pepper) along with drinks. Here, we men had a caña (a small glass of beer) while the lady chose a glass of Spanish wine, a slightly sweet red house wine which she liked. Here is where we started getting to know each other and discussing Spain and its customs. One topic of interest to them was the custom of throwing the napkins and shrimp shells on the floor – and this place, as well as the Museo del Jamón, is well known for the practice.
Next, we went through the Plaza de Santa Ana to the Calle de Huertas where I took them by a beautiful, historical bar, Casa Alberto, which we found closed on Mondays. I was afraid of this. Earlier, on my way to the American couples' hotel, I zig-zagged my way through Madrid and found a number of other tapas bars closed on Mondays and wondered feared we might encounter more of the same on our tapas crawl.
So we backtracked to our next stop, the Vinoteca Barbechera, on the southeastern corner of the Plaza de Santa Ana. We took a barrel table and stools near the door but there were few people in the establishment. Here, we three ordered a glass of the Ribera del Duero red wine, the recommendation of the waiter. We also ordered a two items from the menu; the morcilla and roasted apple on toast as well as the octopus and potato on toast. Both were good and we shared them while getting more into Spain and what to expect on their travels.
Crossing the street, we went to the Cervecería Alemana, on the south side of the Plaza de Santa Ana. It's a historic bar, in all the guide books, and made even more famous as being one of the places Ernest Hemingway visited most when he lived in Madrid in the 1920s, 1930s, and again in the 1950s. Here, we took a marble-top, wrought iron leg table in the front part of the bar and ordered, again, beer for the men and red wine for the lady, along with a plate of 6 ham croquets and another plate of 1 piece of fried cod. It was all good and we were already starting to fill up but time was passing and we were enjoying ourselves. The all-Spanish waiters worked busily around us as we talked.
Moving on…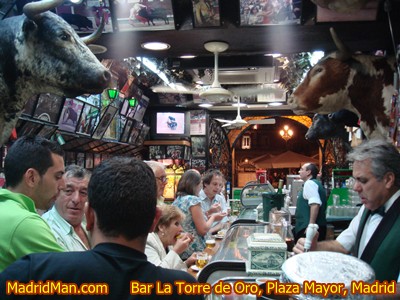 They hadn't yet visited Plaza Mayor so I decided to take them through the rainy plaza to the tiny Torre de Oro – Bar Andaluz, a bullfight-inspired bar with walls covered with 6 stuffed bull-heads and accompanying plaques which describe the bull and the bullfighter which killed him. Also adorning the walls are hundreds of photos of bullfighters in action, photos of bullfighters being gored, surgery photos, and photos of famous people who've visited the bar. The wait staff is totally Spanish but their basic English is good enough for those whom don't speak the local language. Here, we simply had a glass of beer (for the men) and wine (for the lady) along with a plate of olives while we discussed bullfighting, its culture, popularity, and history in Spain. They really loved the olives and recounted a story where earlier that day a waiter gifted them a bottle of Spanish olive oil after they commented on how much they liked it. What a nice detail! Who says waiters in Spain are rude!?
By now it was surely 10:30pm but I didn't want to take them back to their hotel until we visited MadridMan's favorite bar in Madrid; Bar Postas on the Calle Postas, just one angular block northeast from the Plaza Mayor. So that's where we went. Still raining, we reached Bar Postas where we found only a handful of Spaniards enjoying some tapas, drinks, and lively conversation and we were there to enjoy the same.
Bar Postas is one of those old fashioned bars, probably been there in one form or another for 100 years but it looks like one which hasn't been renovated since the 1960s or 1970s. It's kind of old fashioned, kitsch, and definitely not "tourist friendly" in that there are only a few stools along the wall, its small-ish, its VERY Spanish in clientèle and wait staff, and the photos of plates of "exotic" food on the walls doesn't really give the average tourist a warm-fuzzy feeling. Why do I like it? Mainly for the reasons I've just given. It's VERY Spanish. You sometimes get tourists brave enough to enter but those eating here are usually those-in-the-know. Bar Postas is best known not only for their good prices but also their delicious "bocadillos de calamares" (fried squid sandwiches) and their "chopitos" (fried baby squids). It was the latter, the "chopitos" which we ordered along with a place of manchego cheese. We finished most of both, along with our beer/wine, as the wait staff pulled down the metal shutters with a startling roar, giving obvious notice to those still eating that they were ready to close as soon as the last guest left. So we did.
We walked through the Puerta del Sol and I explained a little about the Kilometro Zero placque and the Oso y el Madroño statue – Madrid's city symbol. We were all full but they agreed to my suggestion of going to just one more place for a final drink – but no food.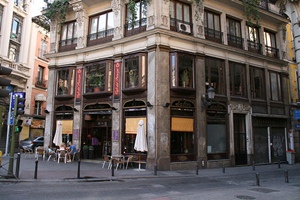 We found ourselves, mostly by chance, at the Café del Príncipe, a historic bar-restaurant on the southern side of the Plaza de Canalej
as. Here, we had our last drinks and a plate of nuts at our window-side table. There weren't many people at this hour on a Monday night, and apparently we shut them down as they close at midnight, but since bars never ask you to leave we were comfortable to spend our last hour together quite leisurely. After much persuasion they let me pay for this round as a very small token of my thanks for a wonderful evening of tapas and wine in Madrid.
I walked them back to their hotel in the rain where we said our goodbyes at about 12:30am. It was so nice to meet them and we had a lot in common so conversation was never stagnant. Their adventurous spirits in trying new and exotic Spanish foods undoubtedly enhanced their Spanish experience. A fast calculation revealed we each had 6 drinks and shared 8 tapas/raciones at 6 different bars over 5.5 hours. NONE of us felt the affects of the alcohol after so much food, walking, and time. Better.
It was nearly the perfect evening. Even the rain didn't seem to matter. The bars were more than half-empty on this Monday night.
Thank you, M and P! And happy wedding anniversary!
Share THIS on Facebook!