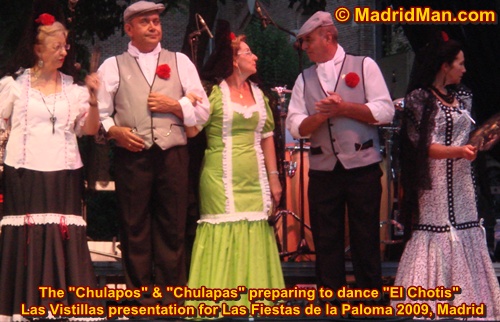 The annual August Fiestas de la Paloma takes place in the area of downtown Madrid known as "Madrid de los Austrias", and more specifically around the Plaza de la Paja, Las Vistillas with views of the Almudena Cathedral, the Calle de la Paloma, and, of course, the Paloma Church. "La Paloma" is Madrid's "Virgin".
It's a weeklong affair with its high-point on Saturday, August 15th with the Virgen de La Paloma procession starting at the (Church) Iglesia de la Paloma, taking the following path: Iglesia de la Virgen de La Paloma, Gran Vía de San Francisco, Puerta de
Toledo, Calle Toledo, Plaza de la Cebada, Carrera de San Francisco,
Puerta de Moros, Carrera de San Francisco, Calle Calatrava, Calle
Paloma, Iglesia de la Virgen de La Paloma.
Acompañamiento Musical a cargo de las Bandas Sinfónicas "Unión Musical de Pozuelo de Alarcón" y " Tempo Allegro".
Many of Madrid's older folks, young children, and just a few others dress totally "Castizo" – in traditional Madrid costume. The kids are adorable as are the the older folks, the only ones left who know how to dance the "Chotis", make for an interesting, eye-catching display along the streets of Madrid.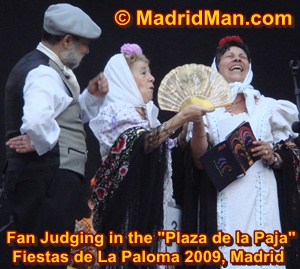 Tonight I was in the Plaza de la Paja for the judging of 4 Spanish fans. All four were many years old; 50 years old in one case, and all beautifully hand painted. The four were presented by their owners, 2 of which were dressed as "Chalupas" – traditional female castiza costume. Oddly enough to me, the results won't be revealed until tomorrow night at, of all hours, 11pm (!!) in the same Plaza de la Paja. Ooooookay! I'll be sure to be downtown for THAT! Uh-huh. Somewhat sadly, there were only about 50 people onhand for the event.
I also made my way over to Las Vistillas for the beginning of the a number of dances performed by "chulapos" and "chulapas" (men and women dressed in traditional Madrid "castizo" costume). The first song to which they danced the "el chotis" was, OF COURSE, "Madrid, Madrid, Madrid" – see video below!!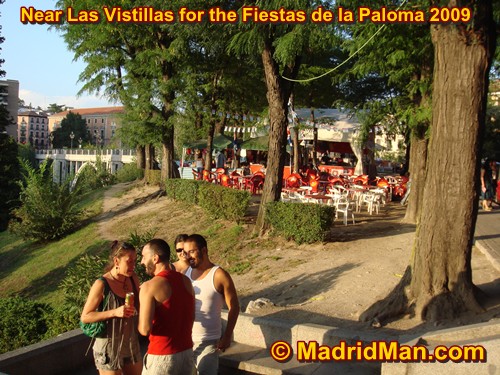 Views of the Sierra de Guadarrama Mountains and the Almudena Cathedral was really breathtaking at sunset. I sat on the fencing which bordered the slope down to the Calle de Segovia for a good look. Although it was quite warm, lots of people were lounging on the green, grassy slope, taking in the sunset, doing a little smooching with their couple, and others were just drinking a few beers.
Things really just start heating up by 10pm in "Las Vistillas" for the "Verbena" (party) – about the time I left!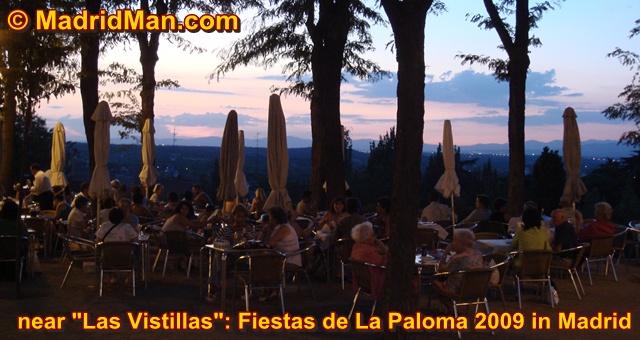 When you approach "Las Vistillas" you almost think you're at a typical county fair in small town USA but you're not, you're in the heart of Madrid, Spain. But instead of funnel cakes, hot dogs, and cotton candy, they mobile stands are selling churros and porras, as well as paella, chorizo, patatas bravas, calamares, chopitos, and on and on – typical Spanish cuisine but the mobile stands looks the same!
Las Fiestas de la Paloma are a VERY Spanish festival – few non-Spaniards attend except for the Latin Americans which seem to love such events and turn out in full force. But the majority of the spectators are Spanish. VERY few tourists are even aware of it and fewer venture outside of the Puerta del Sol-Plaza Mayor zones and into the "fringe" Madrid de los Austrias anyway.
Tomorrow, I hope to TRY to see the procession of La Paloma but it's usually so darn crowded that you can't see anything. I did go a few years ago with one of our message board members and were actually able to enter the La Paloma Church just before the procession started to see the virgin.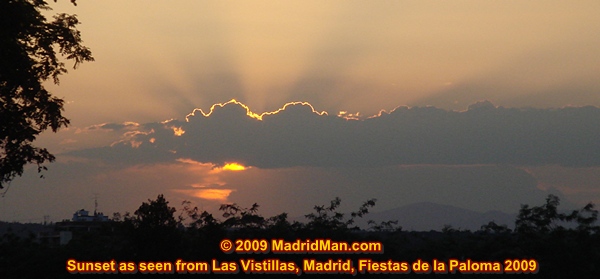 Share THIS on Facebook!