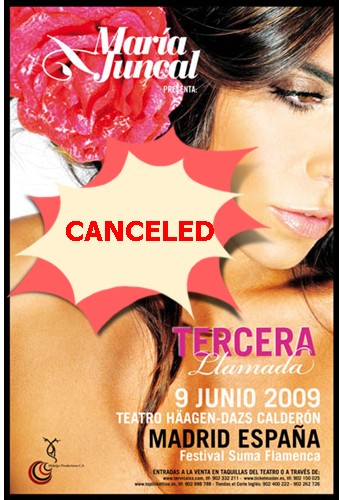 What a shame!!! I was about to leave for the María Juncal flamenco dance performance when I received an email (sent 3 hours earlier) saying the performance had been canceled due to lack of ticket sales. This was to be my last Suma Flamenca 2009 dance performance of this year's Madrid flamenco festival (the last one, tomorrow, is a flamenco singing and music performance).
María Juncal's "TERCERA Llamada" was scheduled to take place tonight at 9pm at the beautiful Teatro Häagen-Dazs Calderón on the Plaza Jacinto Benavente (next to Cine Ideal). There was no information or explanation as to why the performance was canceled in the email but Europa Press (click for article – in Spanish) writes it was due to lack of ticket sales, among other incidents.
Apparently, María Juncal's company was notified yesterday of this development by the production company, "Feed Back". Juncal and company then offered to perform for free if the production company would take care of the technical aspects. The production company apparently declined, saying that even with this concession of a "free show", the 1,500 Euros in ticket sales would not cover the 8,000 Euro price tag required to put on the show.
I'm not sure if this has to do with the production company, the Teatro Calderón, Suma Flamenca or what but I do know there have been past problems putting on shows at the Teatro Calderón in the past with last-minute cancellations of performances due to economic issues. I'd never heard of such a thing before but apparently it does happen, if at the last moment there aren't enough tickets sold, the show DOES NOT go on.
It truly is a shame. I was really looking forward to seeing María Juncal's flamenco dance performance tonight. María Juncal herself must also feel terrible as dancing for the Suma Flamenca festival is quite a note of distinction on anyone's resumé, particularly for the younger performers just getting started. Oh well. They mention the performance may be rescheduled for July – BUT OUTSIDE of the Suma Flamenca festival. What a shame. I won't be able to attend that one.
Share THIS on Facebook!