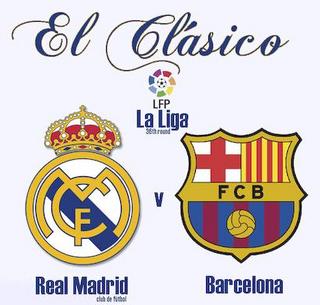 It's time once again for "El Clásico", the 2nd seasonal match-up between Spanish football heavyweights Real Madrid & FC Barcelona (a.k.a. "Barça"). This time around it takes place tomorrow night/Saturday at 8pm at the Santiago Bernabeu Stadium (see webcam) on Madrid's Paseo de la Castellana. The game often decides the fate of one team or the other's in the Liga Española, Spanish Primera Division, Champions League, or "other" league.
Tomorrow night's 8pm game will be shown ONLY on Pay-Per-View for 12 Euros whereas their first meeting was on non-Pay-Per-View, but now I don't recall if it was simply on cable TV (Canal+) or on public/free TV. It was one or the other, but it was not Pay-Per-View, that's for sure, because I watched it and have an aversion towards PPV events. It's not so much that I'm cheap but I'm not passionate enough about any event to pay to see it on TV. If I'm going to pay, I'll go see it live and in person. I've always believed that Pay Per View events were a dangerous marketing route. Sure, it makes a lot more money but you also tend to alienate the majority of your fan base. Look what happened to boxing's title fights on PPV, now almost no one watches anymore, no one talks about boxing anymore, and no one really cares, either. PPV will be the demise of boxing. The same could happen to football/soccer with only a small percentage willing to fork-up the cash to watch their favorite teams, opting instead to read about it in the newspaper the next day or just listening for free on the radio – or they might just stop caring about soccer altogether. That'd be a huge blow to merchandising!
Tickets are sold out for the game to no surprise to anyone. Recent headlines are stating that re-sellers are getting up to 500 Euros per ticket – for which they paid 225 Euros. And if Real Madrid wins you can be sure to hear car horns and shouting fans in the street until the wee hours of the morning. Watch for closed traffic at the Plaza de Cibeles fountain (see webcam), where the team and its fans often celebrates its biggest victories.
One can listen (in Spanish) for FREE to online broadcasts from outside of Spain or via regular radio for residents on the peninsula. Surely many people will be gathering in their favorite bars which choose to PPV the event – and therefore sell LOTS of beer and snacks.
There exist a few not-so covert ways to actually watch the football game online with fair-to-poor video quality. I've watched a few sporting events like this in the past but sometimes the poor quality can be off-putting to the point that it's not watchable.
Find links to WATCH & LISTEN to the Real Madrid vs. Barcelona football match on the MadridMan's Madrid Radio, TV, Music, & Movies page.
Not sure who to cheer for, myself. I never claimed to be a true fútbol/soccer fan, much preferring the other style of football where helmets are worn and hands can be used for fingertip catches in the endzone. Still, it's fun to watch the entire country get jazzed-up for Spain's greatest rivalry.
RESULT: Barça beats Real Madrid 6-2.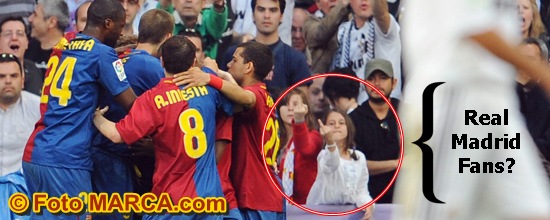 Share THIS on Facebook!