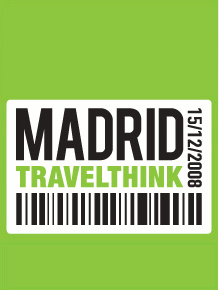 You'll love this… (it becomes a "rant" further down)
Madrid's City Hall (EsMadrid) and Google Travel Spain have apparently teamed up to hold a one-day conference, 15 December 2008, from about 10am to 7pm, in the Casa de Campo Theater Auditorium to assess and combat the depths of the economic crisis affecting the travel and tourism industry in Madrid.
Entry Fee: 75 Euros per person – which includes a nice lunch and coffee breaks. How generous!
Madrid TravelThink is what it's called. The conference includes open-forum, round table discussions after each of the four, 1-hour topics is presented. See the discussion topics below:

1) Changes in promotion and management of turistic destinations
2) Changes in the distribution model of tourism services
3) Changes in the informational habits and consumer purchace
4) Changes derived from the cold, economic climate
So there you have it in a nutshell. 4 hours of "information", and 4 total hours of round table, open forum discussion (one hour after each topic presentation) for this conference, hosted by a VERY concerned Madrid City Hall and Google.
All this for 75 Euros!?!?!!? That's a day's wage for most travel professionals – WITH university degrees! Oh, did I already mention this price includes the lunch and 2 coffee breaks?!
Rant Time: Google and EsMadrid is organizing this event to help those of us in the tourism sector better manage this time of tourism crisis for Madrid and Spain. APPARENTLY, they only ask 75 Euros per person to help offset the cost of organizing such a conference and do not intend to profit from it. UH-HUH. RIGHT! But 75 Euros per person?!?!? How much is the lunch and coffee breaks worth? And shouldn't the CITY OF MADRID be DONATING the Theater Auditorium in the Casa de Campo, with hopes that Madrid and Spain's tourist professionals may better deal with the fading tourism industry, thereby putting more money into the Madrid City Hall's pockets?? Or maybe EsMadrid is flying in all their keynote speakers, via First Class Airfare, from around Spain, U.K., France, Italy, Germany, and New York City – not to mention 1 or 2 night's stay at a 5-Star Madrid Hotel?
First, Google's worth billions of dollars. Good for them. Madrid's City Hall, who is really dealing with this problem on a local level, is also contributing personnel to this conference. But couldn't they do much much, MUCH more?
Tourist professionals ARE feeling the economic pinch from fading tourism. I FEEL IT! Can we now afford, IN THIS TIME OF ECONOMIC CRISIS, 75 Euros per person to tell us (probably) what we already know and feel? Many cannot afford it. Wouldn't THIS be a PERFECT opportunity to invite ANYONE in the tourism industry to share in this presumably enlightening event – FOR FREE? Wouldn't THAT help the industry and the City of Madrid?
I've registered but stopped short of paying so I'm not going. 75 Euros is just too much. I'd consider it if it was only 30 or 40 Euros but no-way will I pay 75 Euros. Not unless, of course, Google is "gifting" all those in attendance with a electronics-filled gift-bags. Doubt that.
Share THIS on Facebook!