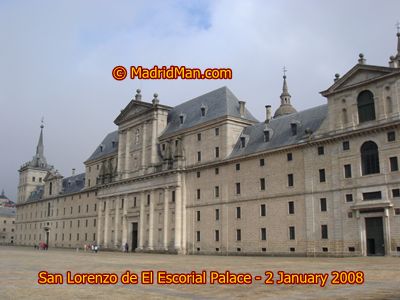 The village of El Escorial is an easy daytrip from Madrid. It can be done by bus or by car. The 16th century royal palace and monastery there, San Lorenzo de El Escorial, was built by King Philip II and is one of true jewels of La Comunidad de Madrid. It's also where past – and future – Spanish royals are buried.
Yesterday, 4 Guys from 4 Nations visited the nearby (to Madrid) village of El Escorial by car. We were 1 person from Spain, 1 person from Denmark, 1 person from England, and 1 person from the United States. Talk about your international representation – all ambassadors for our countries in El Escorial. We tried to behave ourselves.
We'd arrived at about 12:30pm at the gate to enter the "park" of Valle de los Caídos. There was a short line, not moving. We asked what was happening and the guard told us they were removing ice from the access road and putting down salt and that we should go into El Escorial and come back later. Okay. Fine. No problem.
It was a cold day, very cloudy, and rained lightly at the beginning of our visit to the large village. 2 of our group went into San Lorenzo de El Escorial and gave themselves a self-guided tour while 2 of us went walking into the village. I was a walker and not a tourer of the El Escorial Palace because I'd seen it just last summer as had my buddy Steve. Steve and I took to the streets and visited the numerous belénes or nativities throughout the town, finally stopping at a back-street bar for a coffee. While chatting and sipping our drinks, a waiter passed us with a large ceramic bowl of sopa de marisco or shellfish soup and had to ask for a small bowl to hold us until lunch. Very good. Tasty. And HOT.
Back to the streets, up and down, back and forth, looking over the nativities, some rather comical, others more traditional. We finally got the call from the other half of our party to meet them at the exit gate of San Lorenzo de El Escorial so we made our way there and did some "shopping" at the monastery gift shop while waiting. They arrived a few minutes later, satisfied with their tour, and we four headed back through the city to see more nativities and to find someplace for lunch as it was already about 2:30pm.
We found a bar with a small dining room which had a good Menu del Día and sat down, ordered, and at our lunches along with a large, shared order of Patatas Bravas. Mmmm.. So good. We ate briskly as we needed to get back to the Valley of the Fallen before the last funicular went up to the foot of the cross at about 4:30pm (at this time of year). We paid, drove to the entry, waited in line with our car, and the guard at the gate remembered us and waved us through without paying. Wow. He was nice! It's typically 5 Euros per person for NON-European citizens so I was ready to pay. But apparently since two of us were European citizens, one was a Spanish resident, and one didn't have any documentation whatsoever – but was wearing a LONDON sweatshirt – he just waved us through.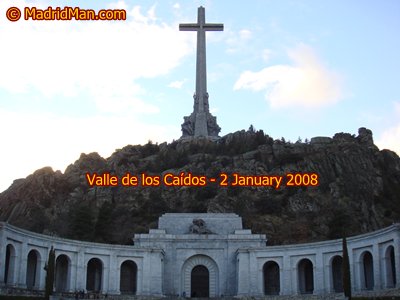 We buzzed up the winding hillside access road, about 5 minutes or so, and parked at the funicular parking lot and apparently made the last or the second to last car going UP to the foot of the cross. It was 2.5 Euros per person.
The area around the tall granite cross, apparently the tallest cross in Europe, was impressive and the views from up there were even more impressive. We walked around somewhat quickly because the last funicular going down was in 25 minutes. The clouds parted for us as soon as we arrived, giving us some blue sky overhead as the sun set just behind the hills on the other side of the Benedictine Abbey of Santa Cruz and monastery.
We took the funicular down after snapping a few photos and went walked quickly to church, the tomb of General Francisco Franco and José Antonio Primo de Rivera – the founder of the falange. NO PHOTOS ALLOWED. Inside the tomb, which is built into the mountain (see photo above), is an impressive structure for its architecture. The tombs themselves are nothing to see, flat slabs on the floor surrounded by red velvet ropes. Above is a beautiful mosaic dome, probably the nicest part of the entire "Church". Apart from that and the fact that it's built into the mountain, I felt surprisingly nothing while inside. Knowing what I know about the Franco dictatorship I didn't feel the religion surrounding the tombs of the people responsible for tens of thousands of murders. The counterintuitive hypocrisy of this religious monument seems to remove any sensation of God. Often I walk through cathedrals in Spain and I feel something important. Here, I felt nothing – except anger.
The monument was built BY and FOR General Francisco Franco – a monument to himself and to all those who died on the fascist, winning side of the Spanish Civil War. I understand the current government will take steps change its use, making it more of a monument to ALL those who died in the Spanish Civil War, representing BOTH sides.
MANY MANY Spaniards refuse to visit this monument as it represents something which hails fascism, murder, and the division of a country. I can't say I blame them. I think many tourists choose to visit it because it represents a part of Spain's history. And it does. But I also believe few tourists understand that it only represents one side and not the other. The stone cross and the tomb is worth visiting. But be informed before going. Realize that many Spanish prisoners, political prisoners whom were incarcerated long after the end of the Civil War, died during its construction.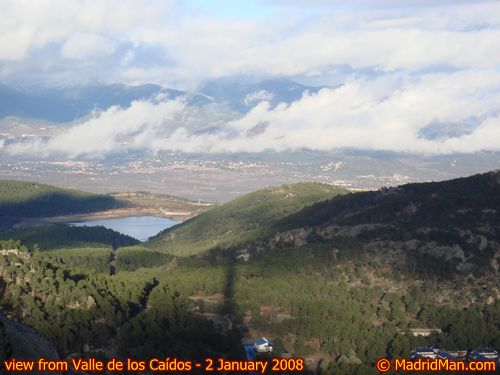 (notice the shadow of the cross in the foreground)
Share THIS on Facebook!