Sometimes it's so nice to go down a local bar for breakfast – just as I did this morning. I really missed them during their one-month absence for August vacation.
The place was established in 1952 just as the neighborhood was being constructed. The bar itself doesn't appear to have changed – outside or inside – since then and that's just the way I like it.
It's a street-corner-bar on a not-so-busy one-way street and, luckily, I can see its green-glowing neon lights from my balcony. This line-of-sight has saved me many trips down/up down 5-flights of stairs, dejected, hungry, & morning-grumpy.
You walk into this place and are immediately greeted by the 70-something original owner and his 50-something son whom are CLEARLY a father-son team. The constantly wiped stainless steel bar follows the L-shape of its street-corner orientation.
I'm somewhat of a "regular" of this bar but only for morning porras and coffee. So when I walk in the owner asks somewhat gruffly and without smile, "¿Cuántas?" or "How many?" The answer is alway the same [3] and he assumes my "café con leche" order.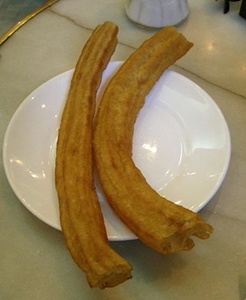 So what are porras? Since there's nothing like them in the USA I can only describe them as 10-inch long, 1-inch diameter, air-pocket-filled, deep fried dough. They don't have much flavor and are not sweet at all. They don't sound very appetizing, do they? No they don't. Churros, the more popular cousin to the porra, are smaller, rope-like strands of fried dough, usually with powdered sugar sprinkled on top. Generally speaking, I don't care much for sweet things so I prefer the blander porras.
Porras were first introduced to me for breakfast immediately upon arriving to the neighborhood, my first visit to Spain/Madrid in 1995. Upon seeing them I said, "I'm not eating that!" but was convinced to open-my-mind and try them. So after the first couple I felt like I had a brick in my stomach. BLAH! I though, "NEVER AGAIN!" Ha! Now I have them only once a month.
Here, about 40 meters away, the bar down the street is PURE, TYPICAL Spanish. There are always people having their coffee for breakfast, including the Spanish police, neighborhood people, and workers before starting their day. When I pay and leave the bartender gives me a smile. I say to them and to the rest of the bar with my voice raised a bit, "¡Hasta Luego!". The bartender, now with his back to me, replies with the same as do just a few of the coffee-drinkers. The rest of them, however, simply give me curious, cautious stares with eyes open wide. Hahaha… I can always imagine what they're thinking…, "Who's that? He doesn't belong here! And why's he wearing shorts and sandals in the morning??!" But I'm not offended in the least. This is how it is.
I don't KNOW the bartender or his son but they always greet me with a wave of the hand and a shout of "¡Hasta Luego!" when they see me passing by the bar on my way to who-knows-where. Little details like this always make a person feel at-home in the neighborhood. I get the same in-passing greetings from the "Chicken Lady" at the neighborhood Pollería, butchery, fruit-store, and convenience store owners.
This is MY neighborhood now. I feel AT HOME and sleep well at night.
Saludos, MadridMan
Share THIS on Facebook!