Last week I enjoyed a wonderful flamenco show in Madrid at the Tablao Villa Rosa. Anyone who knows "MadridMan" knows he loves flamenco and this tablao is definitely one of the best – if not the best – with regards to price, location, decoration, and quality of performers.
I've watched flamenco performed in just about all of Madrid's tablaos, and in most of those more than once, but this was my 3rd visit to this amazing flamenco tablao. (I also wrote about the Tablao Villa-Rosa last July) This historic tablao is perfectly located in the northwestern corner of Madrid's Plaza Santa Ana. If you've been to Madrid before you've certainly noticed the façade's beautifully hand-painted tiles portraying scenes in Madrid and Spain.
Tuesday night's flamenco show started at 9:30pm, but we arrived at 9am and were seated right next to the stage. What luck! Great views from beginning to end. It should be mentioned that photos are permitted to be taken but not video. If they see you recording video, they'll kindly ask you to stop. This is typical in most tablaos.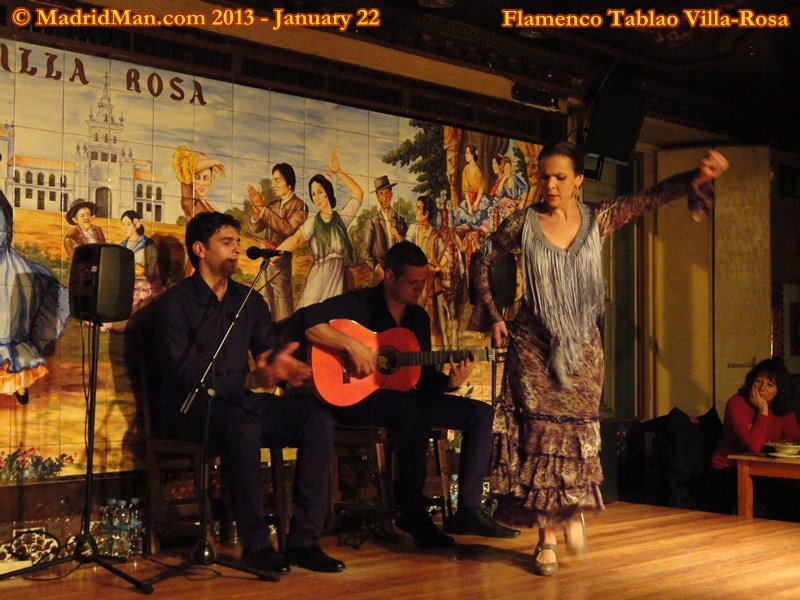 The stage performers included one guitarist, one singer, and three dancers. Other flamenco tablaos will charge twice as much, but will give you twice the number of performers, too, and the shows last twice as long. So for those wanting an excellent taste of flamenco at half the price, the Tablao Villa Rosa is a great place to see it.
The two female flamenco dancers were Tamar González and Guadalupe Torres while the one male flamenco dancer was Marco Flores. The ladies were impressive, professional talents, to say the least. Their dances started slow and built to incredible velocity and ferocity.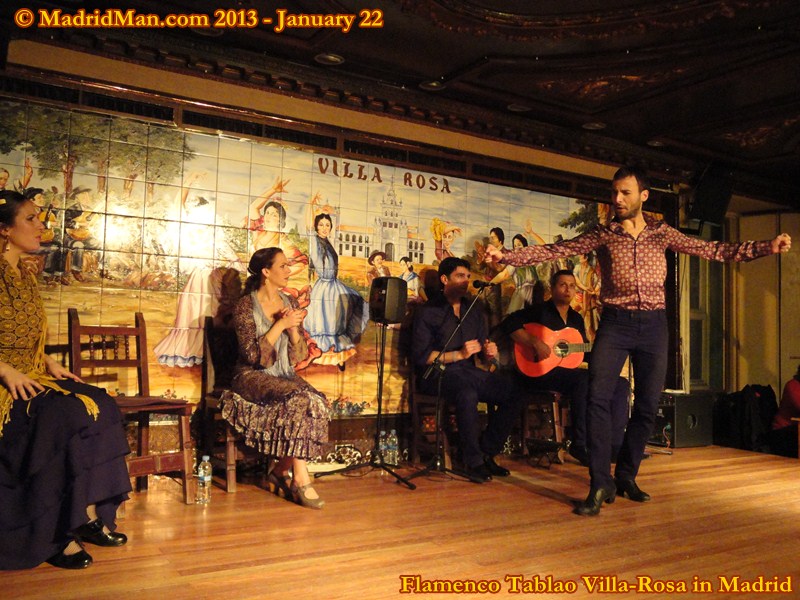 I must admit I didn't know what to expect from Marco Flores, however. He is very tall and very thin – not your stereotypical macho male, pony-tail sporting male flamenco dancer. But, my-oh-my, was he incredible!! In fact, his performance inspired more than one person in the audience, including me, to rise to his feet to applaud.
Funny thing about flamenco and dance appreciation, those not familiar with it may watch with ambivalent curiosity. In fact, a lot of those at the tablao were virtually stone-faced towards the beginning fo the show. But by the end, however, most all were visibly moved, inspired, many smiling in utter amazement.
With time and experience, I'm creating quite a personal list of "Go-To Places" in Madrid. You know, the places you can count on to treat you well, feed you well, entertain you well, and have a good price-quality ratio, too. The Villa-Rosa is fast becoming my "Go-To" flamenco tablao in Madrid.
Video: Marco Torres dancing flamenco in Villa-Rosa:

Share THIS on Facebook!