A LATE Happy Thanksgiving to United Statesens living abroad!
Just returned from 3 nights near Geneva, Switzerland over the Thanksgiving holiday with a few American family members, some Brits, and one Spaniard.
3 of us (the one Spaniard, a Brit, and I) flew easyJet from Madrid to Geneva Switzerland last Thursday morning from Madrid Barajas Airport and had a nice, smooth, 25% full flight. The price was the same as my previous easyJet flight to Geneva – 64 Euros! CHEAP!
At the Geneva Airport we passed through customs in minutes and received our checked luggage within 2 more minutes. How fast! Someone was waiting for us on the other side and we immediately took our money from the ATM.
After arriving home and saying our hellos we sat down to a light lunch in anticipation to a HUGE Thanksgiving dinner. Unfortunately it was raining nearly all Thursday and Friday but was merely cloudy on Saturday. Finally, of course, on Sunday morning – our last day there – the sun came out a bit and we could FINALLY see the Swiss Alps and other beautiful Swiss mountains rather clearly.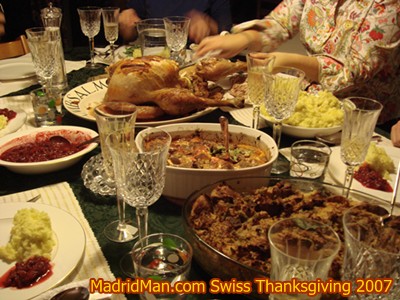 The Thursday, 7pm Thanksgiving dinner was a site to behold and a
spectacularly set table with. In total we were 7 persons and just fit
around the table. The turkey, perfectly cooks and MOIST, had to be
ordered several days before because, apparently, in Switzerland you
can't simply walk into the supermarket and select one. My visiting
cousin has a background in professional cooking and her know-how made
the meal even better than it already was.
No turkey-basting
took place. Instead, the turkey itself was covered in bacon strips and
the entire pan was topped with an aluminum foil umbrella. The turkey
came out moist and tasty!
Along with the delicious turkey we had a mountain of mashed potatoes,
green beans, sweet potatoes covered in marshmallows, a huge pan of
hand-made stuffing, cranberry sauce "imported" from the USA, and for
dessert we had 2 home-made pumpkin pies and zucchini cake.
WOW! What a meal! And everything was VERY "American" with the exception of the French red wine. We all enjoyed it, including our lone Spaniard and collection of Brits and slept very well that night.

The rest of the visit consisted of visits to the nearby Chateau for
wine tasting from the grapes grown in the adjacent vineyard, walks in
the country between the sugar beet fields, trips to the huge grocery
stores, visits to Swiss Rolex Watch stores to dream, a visit to a
downtown Geneva Swiss chocolate shop called LADERACH: Chocolatier Suisse where they make the chocolate there (I
bought three boxes of chocolates for gifts), and a walk around old
downtown Geneva.
We stopped in a village outside of Geneva which was so beautifully picturesque (I don't recall the name of the town now) where we took some photos and walked up to the choppy water of Lake Geneva.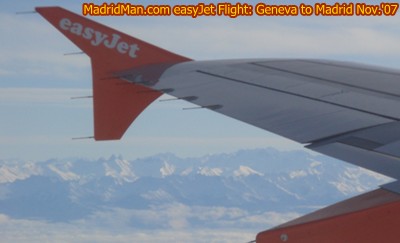 The easyJet flight home was MUCH fuller – probably 80% – but we still
managed to have our aisle and window seats towards the back of the
plane where there was more space. The flight our of Geneva and over
Switzerland was just beautiful. The clouds parted from time to time to
reveal BEAUTIFUL snow covered mountains. We had much more turbulence on
this flight and were asked to remain seated much of the 1 hour 45
minute flight.
We arrived to Madrid Barajas, got our checked bag quickly, and two of us took the metro home without problem. The other took a taxi.
In all it was a nice, easyJet trip with family and friends, good food and wine, picturesque Swiss villages, expensive Swiss mansions gawking, some brisk walks in the country, and lots of playing dominoes to pass the extra time. It's so great easyJet provides inexpensive flights to so many interesting destinations.
Share THIS on Facebook!