Wow! Another incredible weekend in Madrid. Question: "Am I Spanish Yet?!" When do I get my Merit Badge?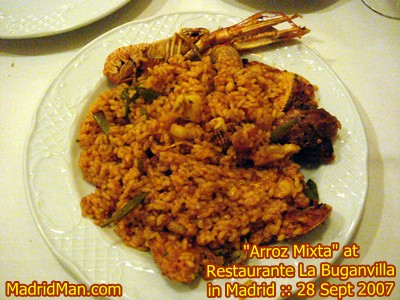 It all started Friday afternoon when I met my good Valencian friend Damián for a paella lunch at La Buganvilla. La Buganvilla is an "Arrocería"
– a restaurant which specializes in rice dishes. AND DO THEY
SPECIALIZE! Wow, what a great meal we had. VERY complete from beginning
to end.
It's located just off the Plaza Alonso Martinez (metro: Alonso Martinez) in a nice, clean, somewhat upscale neighborhood in an elegant building. We had reservations to try this place as it was purported to have "The Best Paella in Madrid". So I just had to try it!
We arrived and were first toured the restaurant and its many small rooms – each with about 5 tables – when we were seated. The restaurant had a mariner's "theme" and was exceptionally clean top to bottom. Many nicely-dressed people eating their rice dishes around us.
I'm so happy Damián went with me to this place because everyone knows that Valenciano's – as Damián is – are connoisseurs of rice dishes, paellas, and the like. Who better to advise me on the ins-and-outs of rice and to judge the quality of such? Damián was the right man for the job. Not only is he great company, intelligent, and a conversationalist (in both English and Spanish) but he also really knows his rice, something his mother makes very well, as he described in mouth-watering detail.
We started with croquetas de marisco (seafood croquets) on a bed of lettuce. Very good, hot, tasty. At the waiters suggestion, we ordered the "Arroz Mixta" served in a paella pan. This has rabbit, chicken, clams, shrimp, squid (I think) and rice cooked to near perfection. Damián said it was the best rice he'd had in Madrid so far. So there you go! If HE says it was good – it's good. The bread was very good as was the bottle of red wine, a Rioja which was suggested by the waiter – something we felt was odd with a paella meal as it's usually more appropriate to choose a white or rosé wine with rice dishes.
After the meal, I chose a berry sorbet and Damián had an elegantly "sculpted" chocolate affair with swirls of this and that across the plate. To top it all off we were offered "chupitos" (selection of liqueurs) to…"help aid digestion". I love this reason/excuse. We tried all 4 of the liquers; crema de orujo, liquer de hierbas, orujo, and another one I can't remember. Wow. That's some hard-yet-tasty alcohol! Sure warmed the digesting contents in my stomach!
After the delicious meal, we spoke at length with our host, Miguel Ángel, who had come to our table several times throughout the meal to see if everything was to our liking – IT WAS! Damián made some comments and observations of the likenesses and differences in this paella and the paellas he's had in Valencia.
What a positive experience. What a good meal. And what good company! Damián and I said our goodbyes, I got on the metro and went home for a few hours of work.
A little later I took the bus BACK downtown and met some friends who were going to a play in the Teatro Albéniz. We had a few beers at the "El Anciano rey de los vinos", a VERY old bar across the street from the theater on Calle de La Paz, 4. This place is small and SPANISH SPANISH. It was in this bar where I saw well-known veteran flamenco dancer "El Guito" just before watching him dance at the same Teatro Albéniz last spring. He was sitting right next to me with his flamenco colleagues.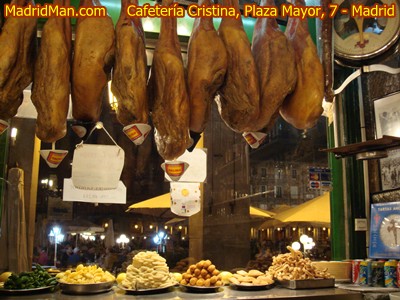 The friends went to the play and I was on my way back home and decided to stop in the Plaza Mayor to have a "caña" (small glass of beer). I started in the corner bar of the Plaza Mayor nearest the Arco de Cuchilleros
and had one beer in each of those three bars while making my way
"left", each place giving a free tapa with the drink order. Two places
gave a plate of olives and one place gave a kind of salad mixture of
onion-octopus for the free tapa.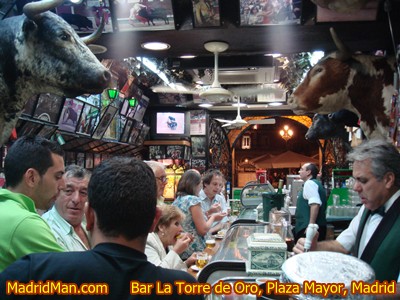 After the third place, I walked around the gallery of the Plaza Mayor to the far side where I stopped in at the "Bar La Torre del Oro". This place has bullfight memorabilia, framed photos, and STUFFED BULL'S HEADS adorning (??) the walls. This too is a VERY Spanish bar for its bartenders but the clientèle is mostly tourists but there are always a few Spaniards peppering this bar. They too ALWAYS give a free tapa with each drink. (a dish of white beans + small cup of gazpacho for me) The bartenders are always cheerful and friendly too. I had one beer and started talking to the traveling Australians to my left as they commented on the bullfight stuff surrounding them. The conversation was good so I ordered another beer – my last – before heading to my bus stop in the Plaza de Isabel Segundo and got home at about 11:30pm – STRAIGHT TO BED with a heavy head.
Saturday. Slept late. Wow. Whoaaa… Rollll slowly out of bed, have breakfast, and get to work until lunchtime. At about 4pm I leave the house for a bus+metro trip to meet my English buddy Steve at Plaza de Toros Las Ventas for the 5:30pm bullfights. This was a bullfight with younger bullfighters so the price was cheap (13€) for decent seats. After the "event" we made our way to the same nearby bullfight-themed bar we found at which we found ourselves the previous weekend after the bullfights; the Restaurante Los Clarines, just off the Calle de Alcalá as heading into the city.
This time we did not go for the Rabo de Toro but instead went all seafood, ordering a ración of the Gambas al Ajillo (olive-oil-cooked shrimp and garlic) AND, again, the lemon-juice-showered Chopitos (small, lightly breaded, fried squid) along with good bread ("¡para mojar!"). This time they served us 30% more chopitos than the last time! All this great food and we ordered a bottle of cold white Rueda wine. Wow, that goes down easily with seafood. Mmmm… The 50-something Spanish bartender now seemed to remember us from the previous weekend and give us a free tapas to start off, later another free tapa of salchichón (a kind of sliced sausage), AND FINALLY, a free glass of sorbete de cava for dessert. The all-Spanish wait-staff is always very nice with us, we, the ONLY NON SPANIARDS IN THE PLACE. We felt privileged to be there, in their company.
Full, heavy headed, and happy, Steve and I say our goodbyes and I make my way to the nearby metro station. Arrive home. Alka-Seltzer. A big glass of water with a couple aspirins just-in-case. Bed.
Sunday, today, is mostly uneventful, just doing some work by morning, had Chinese food for lunch (I know, NOT very "Spanish" – but give me a break once in awhile, eh?! hehehe…), and reading about yesterday's/Saturday's United States university football games. My Ohio State Buckeyes beat University of Minnesota and going UP in the POLLS!
So today is DEFINITELY "a day of rest" for me. I've been in Spanish-Overdrive for the last two days. Tomorrow begins a new week in Madrid! Autumn's here, it's obvious. Skies are more often cloudy, cooler temperatures, and the sunsets are earlier and further to the southern horizon. I'd rather be nowhere else in the world.
Share THIS on Facebook!