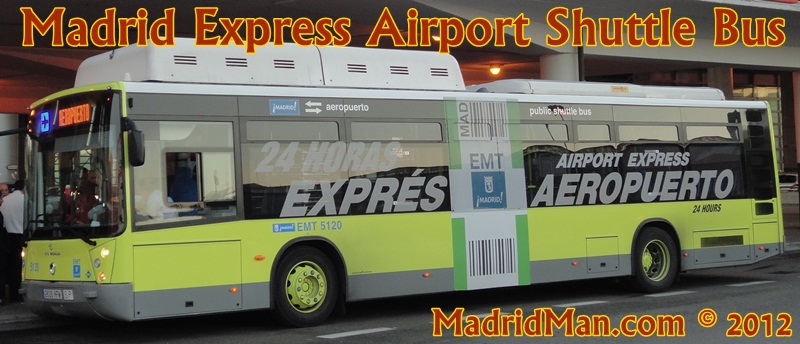 Madrid's Airport Express Shuttle Bus has been in operation for over a year and is an easy alternative – for many – to taxis, "cercanías" regional trains, and even the metro for getting into downtown Madrid cheaply and quickly.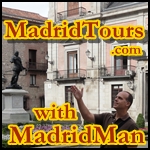 The 24-hour bus takes you to/from the Plaza de Cibeles or Atocha Train Station from/to Madrid Barajas Airport Terminals 1 & 2, 3, and to the new Terminal 4, for 5 Euros (update note: price raised from 2 Euros to 5 Euros on 1 May 2012) each way and takes 35-40 minutes.
Schedule:
7-days a week
6am-11:30pm: start/end-line downtown is Atocha train station
11:55pm-5:35am: start/end line downtown is Plaza de Cibeles
6am-11:30pm: every 15-20 minutes
11:30pm-6am: every 35 minutes
I've taken the bus a couple times since it opened and found it to be efficient, fast, somewhat comfortable, pretty convenient, and definitely cheap. Last Sunday I took it from the Madrid Barajas T4 terminal to Atocha in mid-afternoon. It was easy to find outside of "Llegadas" (arrivals) – outside the baggage claim area for arriving passengers – following the signs for "BUS" and finding the big yellow and white sign for Exprés Aeropuerto/Airport Express. Outside of Terminal 1 & 2, it's also outside the baggage claim area for arriving passengers, exiting the terminal to the outside, turning right, and going nearly to the far end, locating the yellow Exprés Aeropuerto/Airport Express sign and queue-up (get in line) for the next bus.
The buses themselves have 27 seats. This may not sound like a lot, but there's also some standing space in the middle and 4-luggage racks plus below-rack space for stowing luggage in the front half of the bus. The shuttle buses are modern, with air-conditioning, heat, and also equipped with free Wi-Fi Internet, although I've had trouble connecting on more than one occasion.
Sometimes the buses are nearly empty and sometimes they're very full. Just depends on your luck, the hour of the day, and whether arriving flights coincide or not. I find that it's best to be near the front of the line to get the shuttle bus either to downtown or to the airport. This way you're assured space on the luggage racks and maybe a seat, too. If you find yourself right at the end of the line, you may consider waiting for the next bus in order to be first in line. Otherwise, you'll be standing on a crowded bus with your luggage between your legs.
The "comfort" in using the 5€ (note-update: price raised from 2-to-5€ on 1 May 2012) Madrid "Exprés Aeropuerto" is that you can board the bus right outside the terminal, very near your luggage claim area, and it'll take you downtown – but not to your hotel, and CHEAPer at 5€. Getting a taxi is more convenient, faster (20minutes) and more convenient, makes no stops along the way, and takes you directly to your hotel – but also costs 25€-30€ from the airport to Atocha Train Station, for example, with the supplement included.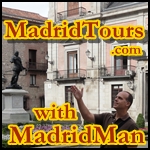 The bus' down-side, of course, is that that you still have to get to your hotel upon leaving the Express Bus at Plaza de Cibeles or Atocha Train Station. From there you can walk, take the metro, or hire a taxi to take you the rest of the way. The reverse is true, too. When going TO the airport, you'll have to make your way from your hotel – with luggage in tow (literally!)- to Plaza de Cibeles or Atocha to catch that bus. This may not be feasible for everyone.
Taking the metro is another popular and cheap option at 4.50€ to 5€, including the 3€ supplement,  (update: price raised from 2.50-to-5.00€ on 1 May 2012) although it takes a little longer, but you can get closer to your hotel this way. You may also have to change metro train lines 2-4 times and carry your luggage up/down stairs to make those metro line changes.
Arriving by plane to Madrid Barajas Airport is exciting enough. But once you're on that bus heading through downtown, passing the Retiro Park on your left, rounding the majestic Puerta de Alcalá, stopping at the fountain-centered Plaza de Cibeles, and then down the tree-lined boulevard of Paseo del Prado to Atocha train station gets me all-a-flutter just thinking about it – and I live here!!

Share THIS on Facebook!