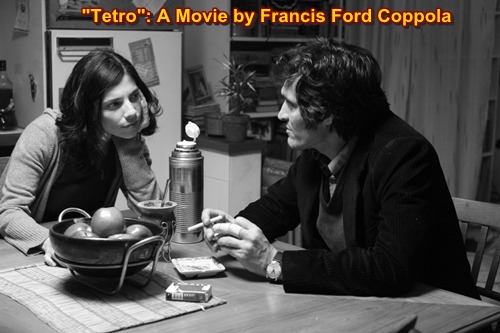 "Tetro". It's a good movie. Maybe not a great movie but definitely a very good movie with lots of character. And better yet is that it's a SPANISH movie, although directed by the great Francis Ford Coppola. I'm confident that it'll be up for at least a nomination for best foreign film at the BIG awards.
The movie stars (unknown to me) Vincent Gallo as "Tetro", Spanish actresses Maribel Verdú & Carmen Maura, and Alden Ehrenreich. Vicent Gallo was great and, and always, so was Maribel Verdú. She's a true professional.
It's shot totally in black and white and takes place in modern day Buenos Aires, Argentina. In many scenes you think you're watching an old movie, of course because of the black and white, but also because of the old-fashioned architecture of the apartments and old neighborhoods.

The language of the movie is English but there is a good deal of Spanish spoken throughout. I watched it in a Spanish theater in Versión Original but had English subtitles – the Spanish parts were, of course, NOT subtitled.
The Argentine music throughout the movie makes you want to run out and buy the soundtrack, filled with accordion tunes & lots of feeling. The scenes are nearly totally dramatic. There are very few lighthearted scenes but no laughs whatsoever. It's a serious movie with a serious topic, two young aspiring men whom have become estranged from their famous family back in New York City.
The story is both touching and wrenching, two family members struggling with their own memories of the past – and how they relate to one another. One's running away and one's searching for answers. They share a common thread.
I found myself teary-eyed at times, too. It's a good movie. And made better by one of the world's great directors; Francis Ford Coppola.
Internet Movie Database synopsis of "Tetro" is as follows:
Fresh faced and naive, 17-year-old Bennie arrives in Buenos Aires to search for his older brother who has been missing for more than a decade. The family had emigrated from Italy to Argentina, but with the great musical success of their father Carlo, an acclaimed symphony conductor, the family moved from Argentina to New York. When Bennie finds his brother, the volatile and melancholy poet Tetro, he is not at all what he expected. In the course of staying with Tetro and his girlfriend Miranda, the two brothers grapple with the haunting experiences of their shared past.
Share THIS on Facebook!