Today, on its first day of operation, I made my maiden-visit to the brand-new Cercanías station in Madrid's Puerta del Sol. The controversial entryway is in the shape, it is said, of a "Glass Fish" or "Pez de Cristal", and does pose a striking structure in the otherwise traditional space of the Plaza.
Thousands of people were onhand today, probably not so many to actually ride the cercanias train as they were taking photos and walking about to see their new landmark. Countless media outlets were stringing cable, conducting on-camera interviews, and recording the event for their own television stations.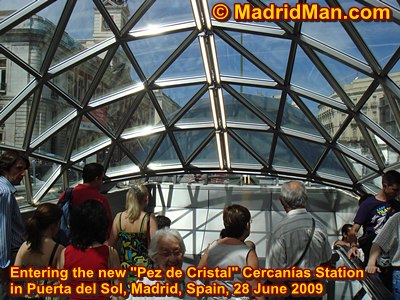 One could go down the escalators as far as the common area but all the good stuff, it seemed, was on the other side of the electronic turnstiles – so I didn't go in. From the public area I could see the brand new LED screens, shiny automated ticket machines, and, from a distance, the behind-glass-remains of the Iglesia del Buen Suceso on the other side and down one level from the ticket turnstiles. There's surprisingly little to see in the common area and so to appreciate "The World's Largest Man-Made Underground Cavern" one must buy a ticket and pass through.
Everything was clean, new, and wonderfully modern. I have to wonder how long the exterior will be free of graffiti, though.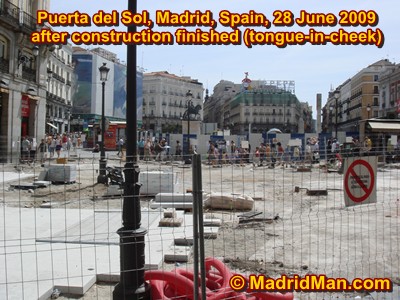 A lot had been said about this completing nearly 5 or 6 years of construction on the Puerta del Sol – but that wasn't evident today where possibly only 15% of the entire place was open to pedestrians. The other 85% was closed off by barricades and fences, construction materials and machinery scattered about. I, like a lot of people, I'm sure, expected to not only find a new cercanias station but also a completed Puerta del Sol free of construction. That was a disappointment.
It seems, at least at first look, that most of which remains is the placement of paving stones but some barricaded areas lead one to believe that some work is yet to be done in Kilometro 0. We'll wait and see but once it's done, we'll all be happy.
Share THIS on Facebook!