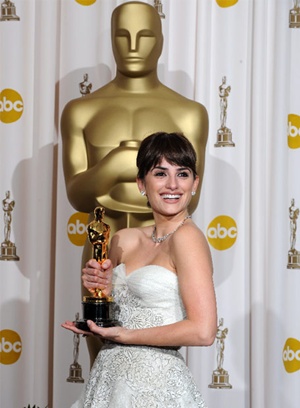 Last night, 22 February 2009, Alcobendas-Madrid-born Penélope Cruz won the Academy Award for the Best Supporting Actress for her role as "María Elena" in the 2008 Woody Allen film, "Vicky Cristina Barcelona". It's a proud day for Spain, Spaniards, Spanish actors, and those from Madrid and Alcobendas.
During her acceptance speech, "Pe" thanked Woody Allen, Pedro Almodóvar, Bigas Luna & Fernando Trueba for giving her her first two movies. She dedicated the Oscar statue to her parents, brother & sister, and everyone who helped her since the beginning.
Especially touching was her emotional story about how she grew up in Alcobendas (a suburb of Madrid) where winning an Oscar was not a very realistic dream. She said she would always stay up to watch the Academy Awards and always felt the ceremony was a moment of unity for the world, "Because art, in any form, is an has been and will always be our universal language. And we should do all we can to protect its survival."
At the end, the 34-year old actress said in Spanish that she dedicated the award to all Spaniards and Spanish actors sharing this moment with her.
Congratulations, Penélope!! All Spaniards and Spaniard-wannabes DO share your joy and we're all very proud of you.
Also read MadridMan's blog Review of "Vicky Cristina Barcelona" HERE.
Share THIS on Facebook!