Christmas in Madrid is something to experience; Christmas lights are everywhere, holiday shoppers pack the streets, and the bars and restaurants are seemingly full ALL the time!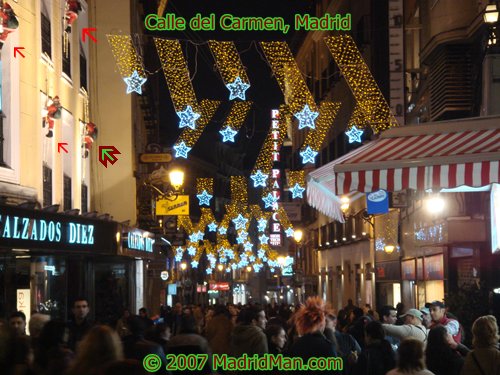 During Christmastime, getting from POINT A to POINT B in Madrid is generally calculated by using the following equation:
normal trajectory time X 4 = actual trajectory time
So if it once took you 4 minutes to casually walk from Opera to Puerta del Sol it NOW takes you 16 minutes. It could take even longer if you encounter more than 2 crowd-creating street performers/statues, more than 3 groups of families standing in the middle of the street, or more than 4 families of 5 walking shoulder to shoulder – or in the normal, meandering Spanish style.
The above is a real pet peve of mine – not only in Madrid but in the world. I think Spaniards have perfected the art of walking in a blind, snakelike patter without hitting anyone. Lots of walking and suddenly stopping in the middle of the flow of pedestrian traffic, lots of "looking right and pointing left" while talking to the person at your right, lots of baby stroller-pushing parents with no sense of direction.
Yesterday I was passing through the murky current of Calle de Arenal and passed a couple talking and walking casually. I was passing on woman's left. She was talking to her husband at her right. The woman was holding a lighted cigarette in her left hand and suddenly reached out with left hand at shoulder height and nearly put my eye out with her red-hot tobacco. Luckily, my football running-back instincts kicked in and I bobbed-and-weaved my head out of the way.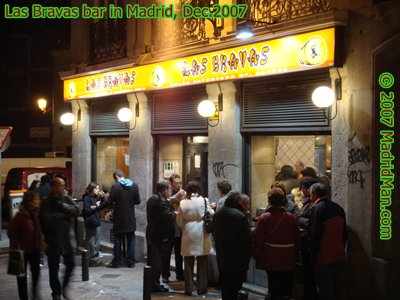 The bars are ABSOLUTELY FULL with holiday revelers, making drink-and-snack shopping stops. Friday night I was in one of the Las Bravas bars in old downtown Madrid – the brand new one – to get a quick order of Patatas Bravas and a beer and could barely squeeze myself a tiny space at the bar as there were not tables available. At one of the other Las Bravas bars the interior was so full that people were eating and drinking at the outdoor barrels and tables while wearing their winter coats. (see photo at left) Luckily there is more than one of these fantastic bars in the chain in Madrid – and oddly enough (or luckily enough) – they're all within 100 meters of one another.
Christmas shopping anywhere around Puerta del Sol area like, for example, along Calle Preciados or Gran Via is an experience. Be sure to wear your PATIENCE HAT before going out. The lines are long at the cash registers, the aisles are full of meandering shoppers with eyes pointing left and right but rarely straight ahead, and the store temperatures are HIGH.
Buses and metro trains are FULL. The bus I typically take to and from OPERA is now full at nearly any hour – but particularly from 5pm to 11:30pm any day of the week. Standing room only. And they're HOT too! All the windows steam up with all those sardine-squeezed bus riders, all front to back, shoulder to shoulder. The metro cars are the same. It's amazing how many people are moving to-and-fro these days in the nation's capital.
Madrid Christmas lights are nice – simple, but nice. There's not a lot of "frill" to this year's lights, mostly consisting of square sheets of hanging white lights, blob-like white light patterns, and an occasional angel or star. The tall, lacy white-light Christmas tree next to the Palacio Real is something special just as the SUPER TALL green and red Christmas tree next to the Rio Manzanares near the Puente de Segovia bridge.
I'd LOVE to take one of the double-decker buses, decorated and managed by the City of Madrid, which takes 1-Euro paying passengers around Madrid to see the Christmas lights. It must be a beautiful, although cold ride. I hear there are hours-long lines waiting for a chance to get on.
The 2007 El Corte Inglés CORTYLANDIA display is an annual family tradition – okay, it's just for kids but the parents have to take them along. I walked through the piles of families and baby strollers and took the below photo at the Puerta del Sol store location – all El Corte Inglés' have their own. I have to wonder why El Corte Inglés itself spells it CORTYLANDIA but everywhere on the internet everyone (Spaniards) spells it CORTILANDIA. I guess the latter is more Spanish-correct than the term with the Y in it – which is no-doubt more English-ized, hence the name of El Corte Inglés.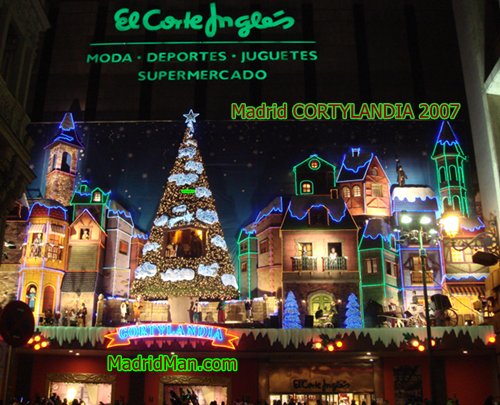 And below is a YouTube video of Cortylandia 2007 – not my video…
More Madrid Christmas Photos coming all this month!!! Be sure to check back often.
Share THIS on Facebook!